Home
KARADZIC'S MOTIONS FOR PROVISIONAL RELEASE DENIED
The Appeals Chamber of the Mechanism for International Criminal Tribunals has rejected Radovan Karadzic's motion for provisional release pending the delivery of the appellate judgment in his case. Karadzic has subsequently filed a motion seeking permission to attend the commemoration ceremony for his recently deceased brother, but it has likewise been denied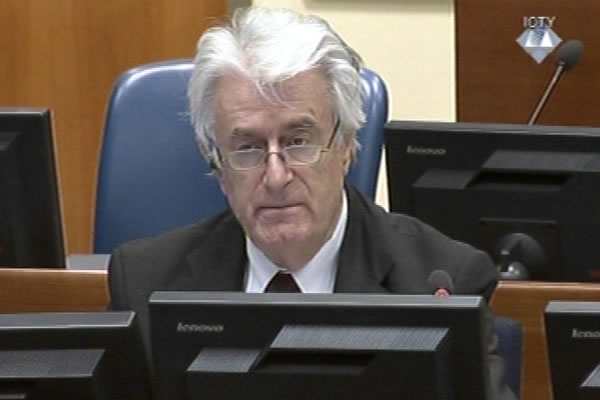 Radovan Karadzic in the courtroom
The Appeals Chamber of the Mechanism for International Criminal Tribunals has rejected both provisional release motions filed by Radovan Karadzic. In the first motion, filed on 22 April 2016, Karadzic asked for provisional release pending the delivery of the appellate judgment in his case. On 28 April 2016, Karadzic submitted the second motion, asking the judges to allow him to travel to Belgrade for humanitarian reasons: he wanted to attend the commemoration ceremony for his recently deceased brother.
Karadzic offered his guarantees that he would not abscond, although, as he himself admitted in his motion, he had spent years actively evading international justice. The Appeals Chamber duly considered Serbia's guarantees for Karadzic's stay in Serbian territory during his provisional release, but, as the judges stressed, in his motion Karadzic stated that he would stay in the Republika Srpska territory. Neither Republika Srpska nor Bosnia and Herzegovina offered any guarantees for Karadzic's provisional release.
In their decision the judges also noted that the flight risk was much higher if at the time of motion for provisional release trial judgment was already rendered to the accused. The Trial Chamber has sentenced Karadzic to 40 years in prison and he has left to serve a significant part of the sentence.
Consequently, the Appeals Chamber decided that Karadzic didn't meet the requirements necessary for provisional release and denied both motions in their entirety.