Home
KARADZIC ASKS FOR PROVISIONAL RELEASE
Former Republika Srpska president has filed a motion for provisional release pending the appellate judgment in his case. Karadzic has offered 'personal guarantees' that he will return from Republika Srpska to the Detention Unit in Scheveningen when ordered to do so by the Tribunal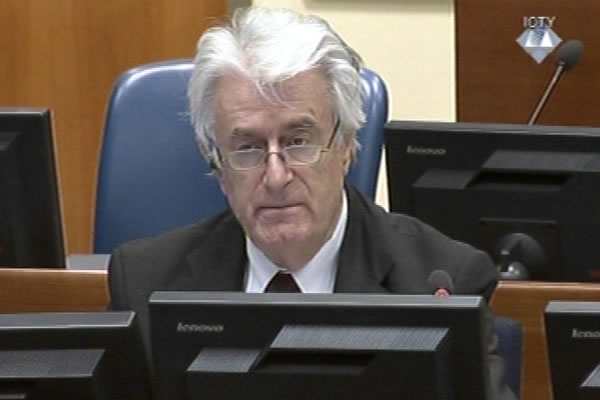 Radovan Karadzic in the courtroom
Radovan Karadzic has asked the Appeals Chamber to provisionally release him pending the appellate judgment in his case. In March 2016, the Trial Chamber convicted Karadzic of genocide and other crimes in the war in Bosnia and Herzegovina and sentenced him to 40 years in prison. The appellate proceedings could take about three years.
In line with the Tribunal's Statute, when the judges have to decide whether to grant the provisional release, they first seek the consent of the host country and the country in which the accused will remain until summoned back to The Hague. Karadzic has asked the Registry to forward his motion to the Netherlands and to Republika Srpska. He has not mentioned the state of Bosnia and Herzegovina.
Karadzic has offered the Appeals Chamber his 'personal guarantee' that he will return to the Tribunal's Detention Unit when ordered to do so. Also, Karadzic has promised not to threaten the victims, witnesses or anyone else. He will comply with all the conditions set for provisional release, report to the local authorities and restrict his movements and travel.
Karadzic argues that although he did not voluntarily surrender to the Tribunal until his arrest in Serbia on 18 July 2008, since his arrest he has 'fully cooperated with the Tribunal, and has acted in a dignified and respectful manner'. As Karadzic noted, none of the witnesses has reported any attempts to threaten. There has been no trouble of any kind in his case. Therefore, in Karadzic's view, he is obviously not a threat to anyone and there is no risk of his absconding.
In his 'personal guarantee' Karadzic notes that in the eight years he has spent in detention, his health has taken a turn for worse. When he came to The Hague, his health was 'perfect', Karadzic stresses. Now, Karadzic's blood sugar level and pressure are high and last year he underwent gall bladder surgery. Karadzic owed his good health before the arrest to diet, vitamins and minerals; he has been unable to stick to the regime in detention.
Karadzic notes that since his arrival in The Hague he has seen a number of his fellow detainees get sick and die. Karadzic lists all those who have passed away, either while they were in the Detention Unit or on provisional release, before his arrival. He is certain that the high incidence of malignant tumors is not a coincidence. The toxic environment in the Detention Unit will either kill him or cause a serious illness if he is not granted provisional release.
Provisional release would also, in Karadzic's opinion, make it easier for him to prepare his defense, because he would be able to help his lawyer Robinson in the appellate proceedings in a more efficient way. During the eight years of his detention Karadzic has been forced to neglect his family and has been unable to engage in cultural activities. If he is not released now, nothing will change in those respects. No matter if the Appeals Chamber acquits him or confirms his conviction, the loss of those 11 years is 'irreparable'.