Home
STATUS CONFERENCE ON KARADZIC'S MENTAL AND PHYSICAL HEALTH
On Wednesday, 6 April 2016 there will be a status conference in the case against former Republika Srpska president Radovan Karadzic. The hearing will focus on Karadzic's mental and physical health following his sentencing on 24 March 2016, when he was sentenced to 40 years in prison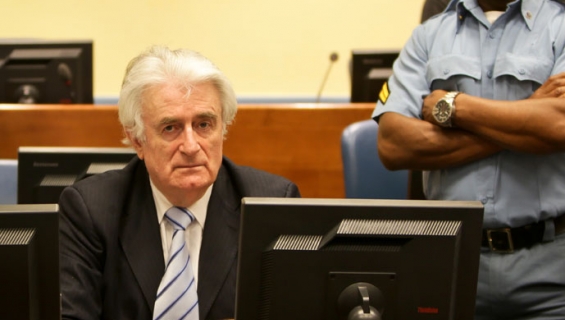 Radovan Karadžić during sentencing
Theodor Meron, president of the Mechanism for International Criminal Tribunals, has scheduled a status conference in the case against former Republika Srpska president Radovan Karadzic for Wednesday afternoon. At the hearing, slated to begin at 3pm, the focus will be on Karadzic's mental and physical health.
Karadzic has filed a request for a status conference the day after his sentencing. On 24 March 2016, the Trial Chamber found Karadzic guilty of genocide and other crimes in Bosnia and Herzegovina and sentenced him to 40 years in prison. In his motion, Karadzic asked the judges to hear him on matters pertaining to his appeal against the trial judgment and his health. Karadzic noted that he had not had an opportunity to talk about his health since September 2015, following gall bladder removal surgery.
On 1 April 2016, Judge Meron issued a decision partially granting Karadzic's request. Indicating that the Appeals Chamber would be formed in due time, Judge Meron also noted that there will be a status conference in the appellate proceedings. The Mechanism President urged Karadzic to specify whether he wanted to discuss his health. When Karadzic confirmed that he did, a status conference was scheduled for Wednesday. The parties will discuss Karadzic's mental and physical health.
In the meantime, Karadzic's legal representative Peter Robinson has filed a motion to extend the deadline for the submission of the notice of appeal. The current deadline is 30 days from the delivery of the trial judgment. In light of the 'scope and complexity' of the case and the length of the judgment – 2,600 pages – Karadzic's representative wants the deadline to be extended to 180 days, until 24 September 2016. He has estimated that it would take him at least 60 days to read through the judgment.