Home
PRESIDENT FOCUSES ON HEALTH, PROSECUTOR ON TRUST
Theodor Meron, the Tribunal's President, and its chief prosecutor Serge Brammertz presented their regular bi-annual reports on the work of the Tribunal to the UN Security Council. In the President's view, the detainees' health is the main challenge. On the other hand, the prosecutor focused on the trust in the Tribunal that is "under strain". The chief prosecutor also mentioned many achievements that would remain the Tribunal's legacy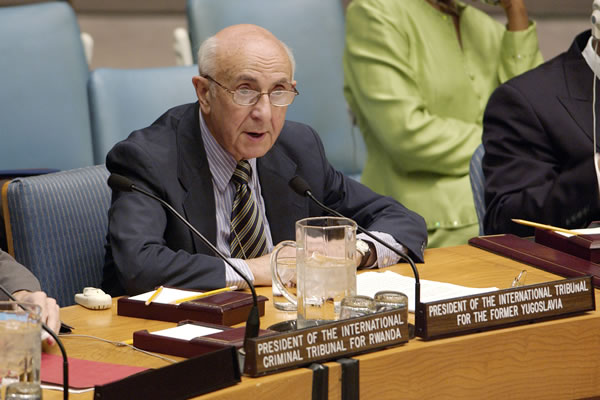 Theodor Meron addresses Security Council
In the regular bi-annual report to the UN Security Council, Theodor Meron, the president of the Tribunal and the Mechanism for International Criminal Tribunals, informed the member states about the latest estimates for the completion of the remaining trials. Meron noted that judgments were expected in 2015 in the cases against Vojislav Seselj, Radovan Karadzic and Goran Hadzic. In Ratko Mladic's case, the trial judgment will not be delivered before March 2017 because of the four-day working week and the reopening of the prosecution case to call evidence on the Tomasica mass grave.
Next year, Meron said, four appellate judgments will be handed down: at the beginning of 2015 inJovica Stanisic's and Franko Simatovic's case, in April 2015 in the case against Zdravko Tolimir, and in May 2015 in the case against Mico Stanisic and Stojan Zupljanin. The appellate judgment in the case against Bosnian Croat leaders is expected by mid-2017.
Judge Meron dedicated a significant part of his address to the health problems of the accused Goran Hadzic, Vojislav Seselj and Ratko Mladic. Despite the fact that the defense case has been suspended because Hadzic's health problems, the Trial Chamber is certain that the trial judgment will be rendered in time, by the end of December 2015. The Tribunal's President finally recalled that Vojislav Seselj was provisionally released for humanitarian reasons because his health deteriorated.
In his report to the Security Council, chief prosecutor Serge Brammertz discussed Seselj's case. Brammertz noted that in light of Seselj's disregard for the Tribunal's orders and his offensive remarks about the victims and witnesses, the OTP was forced to urge the judges to reverse the provisional release decision. The intensity of the public reaction to Seselj's release 'should encourage us to redouble our efforts to ensure accountability for serious violations of international humanitarian law and to firmly stand against all forms of revisionism'.
Brammertz went on to note that the 'trust' of the public and in particular the victims and the Tribunal's supporters in the Tribunal was 'under strain'. The chief prosecutor said that 'critical reflection' was still needed at the Tribunal. 'At international tribunals there should not be tension between judicial independence and efficient case management', Brammertz said.
In the chief prosecutor
'
s view, the Tribunal
'
s legacy should not be measured by the past few years alone. He recalled that there have been many important achievements in ensuring accountability for crimes committed during the conflicts in the former Yugoslavia.
Photos