Home
MERON WILL VISIT BH CRIME SCENES
In late November 2014, Theodor Meron, the Tribunal's President, will meet the victims of war in Bosnia and Herzegovina. Meron will visit Celebici, Uzdol and Sarajevo, the executions sites of Serbs, Croats and Bosniaks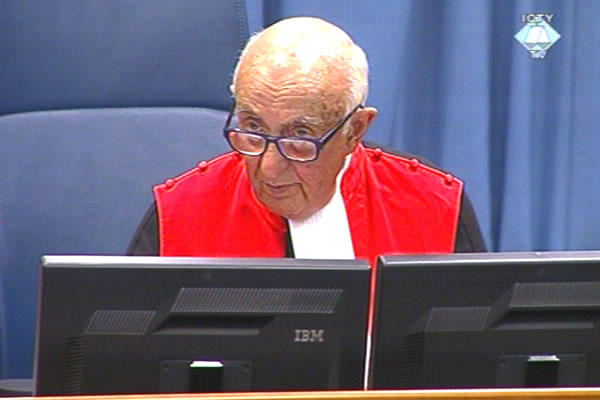 Theodor Meron, president of the Tribunal
Theodor Meron, the president of the International Criminal Tribunal for the former Yugoslavia, will visit Bosnia and Herzegovina from 25 to 27 November 2014. Meron will meet war victims and visit the sites of mass executions of Serbs, Croats and Bosniaks in Uzdol, Celebici and Sarajevo. The Tribunal has handed down final judgments in cases related to those sites.
On Wednesday, 26 September 2014 Meron will first visit the Celebici prison camp near Konjic. In 1992, the BH Army ran a camp for Serb civilians there. The crimes against Serbs in Celebici were prosecuted by the Tribunal in the Mucic et al case. In 2003, former prison camp commander Zdravko Mucic was convicted by the Tribunal of murder, torture, rape and other inhumane acts againstSerb civilian detainees and was sentenced to nine years. Mucic's deputy Hazim Delic was sentenced to 18 and one of the guards, Esad Landzo, got 15 years in prison.
After Celebici, Meron will go to Uzdol near Prozor. In September 1993, the BH Army's regular troops massacred 25 Croat civilians in the course of Operation Neretva 93. Sefer Halilovic, the BH Army's first commander in chief, was tried at the Tribunal for those crimes. During the trial it was established that the crime had indeed been committed, but the judges concluded that Halilovic did not exercise command over the troops that committed it. Halilovic was acquitted. No one has yet been convicted of the crime in Uzdol.
Finally, on 27 November 2014, Judge Meron will lay flowers at the monument to the children killed during the 44 months of the Sarajevo siege. The crimes against the civilians in Sarajevo were probed in detail at the trials of Stanislav Galic and Dragomir Milosevic, former commanders of the VRS Sarajevo-Romanija Corps. Galic was sentenced to life for the crimes against the Sarajevo citizens. Milosevic, Galic's successor at the post of the SRK commander was sentenced to 29 years for the terror campaign against the city and its residents.