Home
APPEALS CHAMBER TO RULE ON SESELJ'S MOTION TO TERMINATE PROCEEDINGS
Theodor Meron, the Tribunal's President, referred the decision on the motion of the Serbian Radical leader to terminate proceedings against him to his deputy, Carmel Agius. Judge Agius referred the issue to the Appeals Chamber, which consists of five judges. When Seselj filed a motion for the disqualification of Judge Harhoff, the various instances engaged in a similar pass-the-buck exercise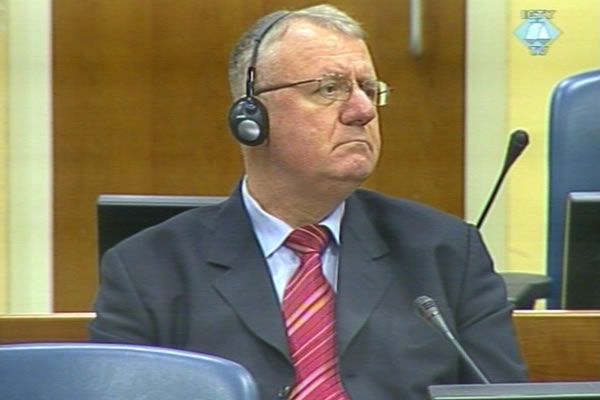 Vojislav Seselj in the courtroom
The Tribunal's Vice-President Carmel Agius appointed a chamber to consider Vojislav Seselj's motion to terminate the proceedings against him.The Trial Chamber hearing the case decided, following the disqualification of Danish judge Harhoff and the appointment of his replacement, Judge Niang from Senegal, to continue the trial at the point where it stopped, with the parties' closing arguments. The accused appealed against the decision and demanded the immediate discontinuation of the proceedings against him and his urgent release, or alternatively a re-trial with a new judge.
In his motion, Seselj argued that he had been 'detained for an unreasonably long time' and that there had often been 'unnecessary delays' in this trial. In its response, the prosecution noted that the accused himself was largely to blame for the delays. Seselj's behavior in and out of court, such as his hunger strike, his efforts to pressure the witnesses and his refusal to use the Tribunal's official languages during the trial, has resulted in delays.
Judge Agius decided that the motion of the Serbian Radical leader would be considered by an Appeals Chamber comprising judges Christoph Flugge, William Hussein Sekule, Arlette Ramaroson, Khalida Rachid Khan and Koffi Afande.
The decision was to be made by President Theodor Meron, but he referred the issue to his deputy Agius, who also recused himself and decided to appoint an Appeals Chamber. There was a similar pass-the-buck exercise when the disqualification of Judge Harhoff was at issue. In that case, the buck stopped with a three-judge panel that finally granted Seselj's motion.
Vojislav Seselj is charged with crimes against non-Serbs in Croatia, Vojvodina and BH and has been in the UN Detention in The Hague since February 2003.