Home
MERON GRANTS KARADZIC'S REQUEST
The President of the Tribunal and of the Mechanism for International Criminal Tribunals has granted Radovan Karadzic' request to appoint a judge to consider if there are grounds for an investigation against the prosecution for failure to disclose potentially exculpatory documents to the former Bosnian Serb president's defense on time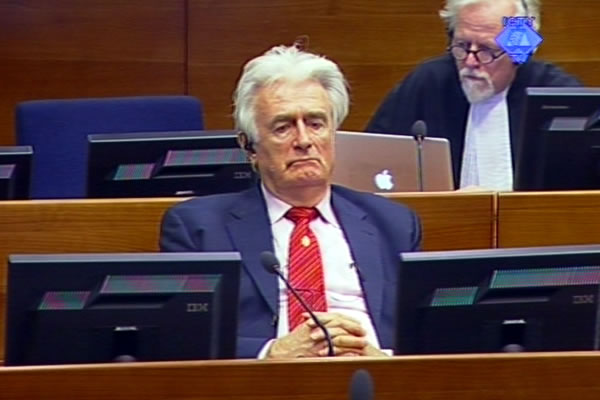 Radovan Karadzic in the courtroom
Judge Theodor Meron, the acting president of the Mechanism for the International Tribunals, has granted Radovan Karadzic's request and appointed his colleague Vagn Joensen to investigate if there are grounds to instigate proceedings against the prosecution for contempt of court. Karadzic submitted the request because, in his view, in his case the prosecution violated the rules because it repeatedly failed to disclose potentially exculpatory documents to the defense on time.
The prosecution opposed Karadzic's motion, stating that the rules of the Mechanism for the International Tribunals provide no basis for the president to assign a Single judge to "consider the appointment of an amicus curiae prosecutor absent a finding that there is reason to believe a personmay be in contempt". Karadzic was supposed to submit the motion to Judge Kwon's Trial Chamber, "which has jurisdiction to determine whether there is reason to believe that a person may be in contempt that case", the prosecution contended.
In his decision, Judge Meron notes that the Statute of the Mechanism grants him, as the president, the right to assign a 'Single judge' in cases involving contempt of court and obstruction of justice. In this case, the President has invoked this provision in the Statute to grant Karadzic's request. It remains to be seen if Judge Joensen will eventually find there are grounds to appoint a prosecutor amicus curiae who will issue an indictment and prosecute the members of the prosecution team in the case against the former Republika Srpska president.
At the same time, the accused filed a separate motion asking the judges to schedule a status conference before the closing arguments, slated to take place on 29 September 2014. When the proceedings are adjourned for this or that reason, status conferences are regularly held every120 days to allow the parties to discuss issues related to the course of the trial. The accused is also given a chance to address the judges on the issues related to their health and conditions in the detention unit. As Karadzic alleges in the motion, he has not been in court since 3 March 2014, and therefore, the judges should convene a status conference before 1 July 2014.
The former president of Republika Srpska is charged with four joint criminal enterprises: genocide and other crimes in municipalities in Bosnia and Herzegovina in 1992, the Srebrenica genocide in 1995, taking UN staff hostage in June 1995 and the terror campaign against the Sarajevo citizens throughout the four years of war.