Home
KARADZIC WANTS BIFURCATED JUDGMENT
In his latest motion, Radovan Karadzic argues that issuing separate sentencing judgment would contribute to a fair trial and make work easier for the judges. However, the former Republika Srpska president claims there will be no need for the sentencing judgment because he 'expects to be acquitted', as he has put it in the first sentence of his motion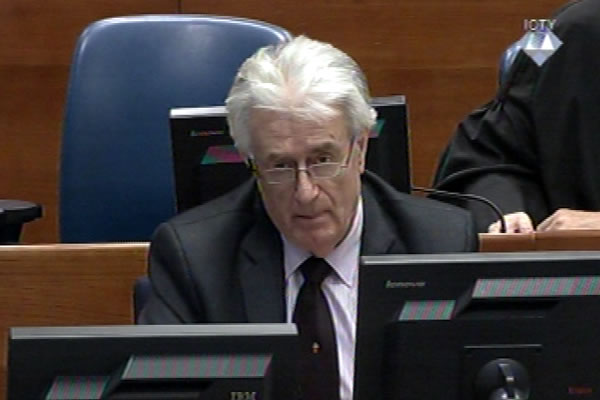 Radovan Karadzic in the courtroom
Although he 'expects to be acquitted', former Republika Srpska president Radovan Karadzic has nevertheless petitioned the Trial Chamber to issue separate sentencing judgment in his case should he be found guilty. As Karadzic notes, the indictment is 'extraordinary broad in scope' and the Trial Chamber is expected to deliberate on 263 separate crimes listed in the indictment, and to reach 77 separate decisions on the mode of liability.
Such a large case opens infinite number of possible outcomes. Consequently, it may be best to present the arguments related to the sentencing once the parties have learned which crimes Karadzic is to be convicted of, if any. According to the accused, the sentence will vary greatly depending on whether he is acquitted or convicted of the two counts charging him with genocide. Another factor that will affect the sentence is the mode of liability: what if he is convicted on the basis of command responsibility, for failure to prevent or punish crimes? This approach is not only fair but would be of 'great assistance' to the Trial Chamber, Karadzic stresses.
The sentencing judgment wouldn't require any new evidence or oral hearings; the judges could order the parties to submit their written arguments within seven days of the judgment. Based on the findings of guilt, the parties would in their briefs present their recommendations for the sentencing, Karadzic says.
In support of his motion, Karadzic states that the sentencing judgment wouldn't significantly extend the trial. On the contrary, the Trial Chamber could hand down the verdict earlier, and possibly wouldn't even have to deliberate on the sentence – if Karadzic ends up being acquitted on all counts in the indictment.
Karadzic has invoked the practice of other international courts which routinely hand down separate judgments, one a verdict and the other the sentencing judgment, to secure a fair trial and to make the work of judges easier in complex cases like Karadzic's.