Home
KARADZIC'S MOTION FOR BIFURCATED JUDGMENT DENIED
The Trial Chamber has rejected Radovan Karadzic's motion for a separate sentencing judgment if he were to be found guilty. The Trial Chamber has noted that it 'finds no reason to depart from the settled practice on sentencing' in force since July 1998.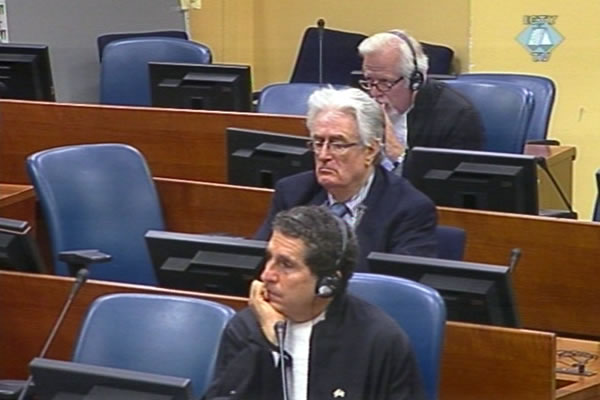 Radovan Karadzic in the courtroom
Judge Kwon's Trial Chamber has rejected the motion of former Republika Srpska president Radovan Karadzic for a separate sentencing judgment. In his motion submitted earlier this month, Karadzic stressed that the indictment was 'extraordinarily broad in scope'. A number of separate decisions on a series of crimes and different modes of liabilities will have to be made. Since there was an 'infinite number of combinations' for a possible outcome, Karadzic argued that it would be best for the parties to present their argument on the sentencing once the judges reach their verdict.
In the decision the Trial Chamber noted that the rules applied at the Tribunal were modified in July 1998 in favor of a single judgment, containing both the finding on the guilt of the accused and the sentence. In the Trial Chamber's opinion, 'there is no reason' to depart from the practice of the past 14 years. Contrary to Karadzic's allegations, the practice doesn't jeopardize the right of the accused to a fair trial.
If the Trial Chamber finds Karadzic guilty of the crimes in the indictment, the Trial Chamber will hand down the sentence in the same judgment, the decision states. The parties are expected to submit their arguments on the sentencing in their final briefs by 29 August 2014 and in the closing arguments slated for 29 September 2014.