Home
KARADZIC SEEKS DISQUALIFICATION OF ALL TRIAL CHAMBER JUDGES
The former Bosnian Serb president contends that the four judges in his Trial Chamber haven't been legally re-elected and that their term of office expired yesterday. Although he is aware that his move might lead to a delay in the delivery of his trial judgment, Karadzic filed the motion to disqualify the judges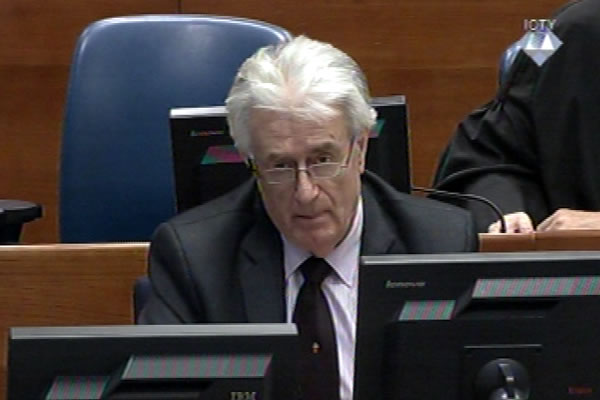 Radovan Karadzic in the courtroom
Radovan Karadzic has filed a motion petitioning the Tribunal to disqualify three judges from the Trial Chamber sitting in his case: Kwon, Morrison and Baird, as well as the reserve judge Lattanzi. According to the accused, the judges' term of office expired on 16 July 2014 and they are no longer qualified to hear cases before the Tribunal in The Hague.
On 16 July 2010, the United Nations General Assembly re-elected the four judges: permanent judges Kwon and Morrison, and ad litem judges Baird and Lattanzi, to four-year terms. This, in Karadzic's view, means that their term of office expired Wednesday. The UN Security Council did extend their mandate until the end of 2014 in its Resolution 2130 in December 2013, but the accused interprets this as an illegal move. In Karadzic's opinion, the Security Council should be entitled to do this in exceptional circumstances, such as a threat to peace in the countries of the former Yugoslavia. In December 2013, there were no such circumstances.
Cognizant of the fact that his motion could be denied, leaving his fate in the hands of the judges he has sought to disqualify, Karadzic notes that he has 'the greatest respect' for all the members of the Trial Chamber hearing his case. Karadzic stressed that he appreciated their contribution to the case. Karadzic is also aware that the disqualification of the judges could result in a delay in the delivery of his trial judgment; this is what happened in Vojislav Seselj's case. However, Karadzic is unwavering in his resolve to make the Tribunal in The Hague and the United Nations observe their own rules and to disqualify the four judges.
The former Republika Srpska president is indicted for participation in four joint criminal enterprises. The first joint criminal enterprise comprises the gravest war crimes aimed at a permanent elimination of non-Serbs from large parts of the BH territory. In six BH municipalities those crimes reached the scale of genocide. Three other joint criminal enterprises relate to the artillery and sniper terror campaign against the Sarajevo citizens during the entire war, taking UN staff hostage in the spring of 1995 and the Srebrenica genocide in July 1995.
The prosecution and the defense have rested their cases. The closing arguments of the sides are slated to begin on 29 September 2014, but only if the motion the accused filed Thursday is not granted.