Home
WAITING FOR FINAL JUDGMENT FOR SREBRENICA FIVE
A status conference was held in the appellate proceedings against the five VRS officers convicted of genocide and other crimes in Srebrenica and Zepa in 1995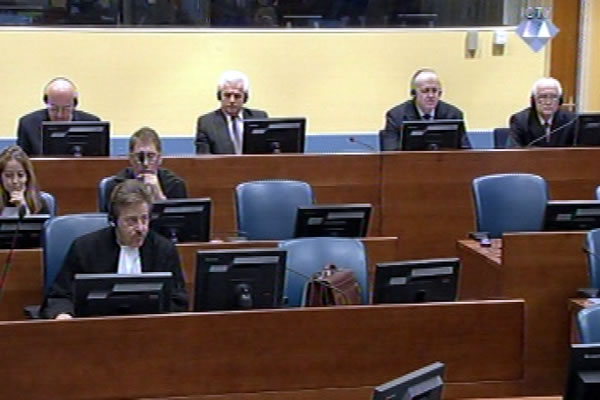 Ljubisa Beara, Drago Nikolic, Vinko Pandurevic and Radivoj Miletic in the courtroom
The deliberations in the appellate proceedings in the case against the five VRS officers who were convicted of genocide and other crimes in Srebrenica and Zepa in 1995 started four months ago. Because of the huge scope of the case, it is impossible to estimate with any precision when the appellate proceedings may end and when the final judgment will be rendered, Judge William Sekule said at the first status conference held in this case after the appellate hearing in December 2013.

In July 2010, the Trial Chamber rendered its judgment against the seven Bosnian military and police officers charged with crimes in Srebrenica and Zepa. Two of the accused, Vujadin Popovic, the Drina Corps security chief and Ljubisa Beara, chief of security in the VRS Main Staff, were found guilty of genocide and sentenced to life. Drago Nikolic, chief of security in the Zvornik Brigade, was sentenced to 35 years for aiding and abetting genocide, while police officer Ljubomir Borovcanin got 17 years in prison for crimes against humanity.

General Radivoje Miletic, chief of the Operations and Training Administration, and General Milan Gvero, Mladic
'
s assistant for moral, legal and religious affairs, were sentenced to 19 and five years respectively for their involvement in the joint criminal enterprise aimed at the permanent elimination of the Muslim population from the enclaves in Srebrenica and Zepa. Former commander of the VRS Zvornik Brigade Vinko Pandurevic was found guilty of crimes against humanity and sentenced to 13 years in prison.
The trial judgment became final for Ljubomir Borovcanin as he didn
'
t appeal against it, as well as for Milan Gvero who died during the appellate proceedings. At the appellate hearing the defense lawyers called for the acquittal of the remaining five defendants, or for significantly milder sentences. The prosecution asked for harsher sentences for Nikolic and Pandurevic, and wanted the appellate judges to find Popovic, Beara and Miletic guilty of some of the counts they were acquitted of by the Trial Chamber, but didn
'
t appeal against their sentences.


The first accused Vujadin Popovic didn
'
t appear in court today, waiving his right to attend the status conference. The reason for Popovic
'
s absence was not disclosed. The remaining four defendants didn
'
t express any complaints about the conditions in the detention unit or health problems. Radivoje Miletic expressed his gratitude to the doctor and other staff in the UN Detention Unit for their care and treatment while in detention.