Home
DUTCH RESPONSIBLE FOR DEATHS OF THREE SREBRENICA MEN
After 10 years, the lawsuit launched by the Nuhanovic and Mustafic families against the Dutch state was brought to a close today when the Dutch Supreme Court ruled in their favor. The families claimed that the Netherlands was responsible for the deaths of their relatives Ibro and Muhamed Nuhanovic and Riza Mustafic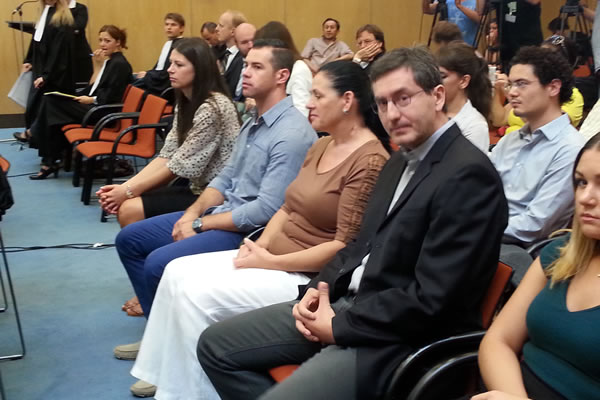 Alma Mustafic, Damir Mustafic, Mehida Mustafic i Hasan Nuhanovic in the courtroom
The Dutch state is responsible for the deaths of Rizo Mustafic, Ibro and Muhamed Nuhanovic. On 13 July 1995, the command of the Dutch Battalion ordered the three men to leave the UN base in Potocari. Today, the Dutch Supreme Court dismissed the appeal of the Dutch state against the judgment of the Dutch Court of Appeal. In July 2011, the Court of Appeal accepted the argument of the victims' families that the Dutch Battalion soldiers 'should have been aware' of the risk the Bosniaks who had to leave the base faced.
Hasan Nuhanovic was an interpreter in the Dutch Battalion. After the fall of Srebrenica Nuhanovic's family – mother, father and younger brother – joined him in the base. However, on 13 July 1995 the three of them ended up among the refugees who had to leave the base on the orders of the Dutch Battalion command. The same fate befell Rizo Mustafic who was working as an electrician in the UN base.
As indicated in the summary of the judgment, the Supreme Court considered whether the Dutch Battalion had acted erroneously in this case and whether the Dutch state could be held responsible for their actions. The court accepted the conclusion of the Court of Appeal that the Dutch Battalion shouldn't have allowed Bosniaks to leave the base and 'end up in the hands of the Bosnian Serbs'. That day, on 13 July 1995, the Dutch soldiers had already witnessed the abuse and killing of men outside the UN base. What the Dutch Battalion did was wrong, the Supreme Court concluded.
Since the Dutch state had 'effective control' over the Dutch Battalion despite the fact that it was part of a UN mission in BH, the Supreme Court confirmed the findings of the Court of Appeal that the Dutch state was responsible for the actions of the Dutch Battalion.
Five years after a District Court found that the Dutch state couldn't be held responsible for any unlawful conduct of Dutch soldiers that served under the UN flag in Srebrenica, the law suit initiated by the Hasanovic and Mustafic families in 2003 ended in their favor.
'My thoughts were with my family', Hasan Nuhanovic said after the judgment. Nuhanovic expressed his hope that as a 'precedent in international law [the judgment] would help prevent such things from happening in future peace missions in the world'. For Rizo Mustafic's wife, the judgment is a sign that there 'are still people in the world who reason soberly and judge fairly'. 'I am happy and proud', Mehida Mustafic said.
Dutch lawyer Liesbeth Zegveld, who represented the Nuhanovic and Mustafic families, believes the Supreme Court judgment is very important in establishing the standards of responsibility of the states participating in UN missions. 'You cannot hide behind the blue flag', Zegveld said. In her view, the judgment will open the door to other families whose members were killed after they were forced to leave the UN base in Potocari.
Photos