Home
'OVERLAPPING' IN COURTROOMS
With increasing frequency, the trials of Ratko Mladic and Radovan Karadzic feature prosecution and defense witnesses who testify at the same time about the same contentious issues, and their evidence is diametrically opposed. Karadzic's defense expert Dusan Dunjic harshly criticized the findings of American forensic anthropologist William Haglund. One floor below, at the Mladic trial, Haglund testified for the prosecution about the exhumations and the examination of the remains from the Srebrenica mass graves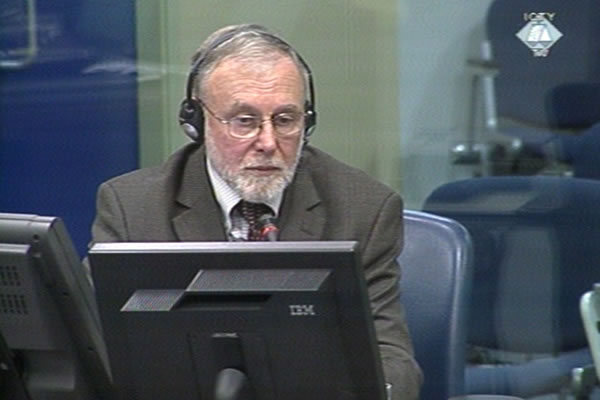 William Haglund, witness at the Ratko Mladic trial
From 1996 to 1998, American anthropologist William Haglund served as a senior forensic advisor in the OTP. In that capacity, Haglund led the exhumations of mass graves at several locations in the Srebrenica area and participated in the examination of the remains from the Srebrenica mass graves. Haglund has already testified about his work four times. At the trial of Ratko Mladic, parts of the transcript of Haglund's first testimony in the case against General Radislav Krstic in 2000 were admitted into evidence.
The prosecutor read out the summary of Haglund's evidence in the courtroom. Haglund wrote four reports that were based on the results of the analyses of the remains found in the mass graves exhumed in 1996. The reports were also admitted into evidence. According to the reports, the remains of 150 men were exhumed from the grave in the Cerska Valley: 149 had gunshot wounds. The grave in Orahovac, marked as Lazete 2, comprised two pits. One pit was undisturbed while the other had been dug up, the experts concluded based on the tracks left by the heavy construction machinery. A mass grave 28 meters long, five meters wide and three meters deep was exhumed at the Branjevo farm. A hundred and thirty two bodies were found in just one part of the grave. Seventy seven victims had their hands tied on their back. The rest of the bodies from the Branjevo mass grave were removed in a clandestine operation to eliminate the evidence of the crime and were taken to the so-called secondary graves. The remains of 33 victims were recovered in the four primary graves in Nova Kasaba; 27 had their hands tied. Those graves were also dug up in the fall of 1995.
In the re-examination, the prosecutor tried to clarify the criticism levied by some forensic experts in Haglund's team against Haglund's methods and the credibility of his reports. Haglund explained that the controversy centered on the amended cause of death for some victims made by Dr. Kirchner, who headed the team of pathologists. Dr. Kirchner worked for Physicians for Human Rights, a non-governmental organization. The final conclusions about the cause of death were not affected by the changes, Haglund said. Dr. Kirchner intended only to 'generalize' the findings without previously consulting the pathologist who had performed the post mortems. A similar explanation was given by the Supervisory Commission that investigated the case at the pathologist's request.
At the beginning of the cross-examination, Mladic's defense went through the results presented in Haglund's reports and the conclusions of the Supervisory Commission. The cross-examination continues tomorrow.