Home
BLINDFOLDS AND TIES FROM MASS GRAVES
In the cross-examination of Dr. Christopher Lawrence, Mladic's defense tried to prove that the victims from the Srebrenica mass graves were soldiers, not prisoners. The defense also argued that the pieces of fabric found in the mass graves were not blindfolds or ties used to bind the victims' hands; to corroborate that claim, the defense showed segments from the Srebrenica video collection prepared by the prosecution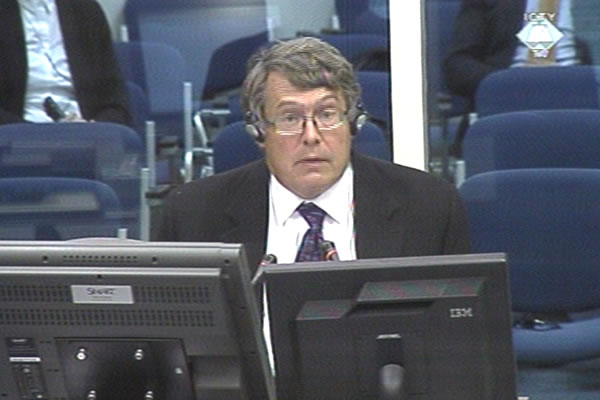 Christopher Lawrence, witness at the Ratko Mladic trial
Forensic pathologist Christopher Lawrence headed the forensic team that conducted post mortems of the remains of the victims exhumed from the Srebrenica mass graves, as a part of the Tribunal's Srebrenica investigation. Dr. Lawrence and his team examined 2,239 bags with the remains exhumed at the Petkovci Dam and the sites called Cancarski Put, Hodzici Put, Zeleni Jadar and Liplje.
In his evidence at the trial of the former VRS Main Staff commander Ratko Mladic, Dr. Lawrence said that he and his team carried out the post mortems of at least 883 people from Srebrenica and were able to ascertain that most of the victims died of gunshot wounds. Shrapnel were found in some graves, as were numerous blindfolds and ties used to bind the prisoners' hands, made of different fabrics. The findings led the witness to conclude that the victims had been executed.
Mladic's defense counsel Dragan Ivetic argued in his cross-examination that the blindfolds and ties used to bind the prisoners' hands were not found on each and every body. Ivetic also tried to contest the meaning of the fabrics found in the graves by showing some segments from the so-called Srebrenica video collection, depicting a man with a bandanna wrapped around his head and another shot of a soldier with a pink linen ribbon tied around his upper arm. Dr. Lawrence agreed that the bands on the photos were similar to those recovered from the graves. However, Dr. Lawrence stressed that at the time of the exhumations a lot of victims still had those bands wrapped around their skulls in the eye area.
In a bid to prove that the victims were soldiers killed in combat rather than prisoners, defense counsel Ivetic claimed several times that shrapnel had been found in the mass graves. In Ivetic's view, this showed that the victims had been killed by shells. In the re-examination the prosecutor noted that the shrapnel Dr. Lawrence mentions in his reports were found only in the Zeleni Jadar 5 grave. The victims of the massacre in Kravica on 13 July 1995 were buried in that grave. According to the evidence called by the prosecution, some of the prisoners who died in that massacre were killed by hand grenades.
Ratko Mladic's trial continues next week with the evidence of new prosecution witnesses.