Home
ALMOST 7,000 VICTIMS OF SREBRENICA GENOCIDE IDENTIFIED
In his evidence at the trial of Ratko Mladic, former OTP investigator Dusan Janc has stated that 6,849 Srebrenica victims have been identified so far. The figure is not final, Janc has noted, since new mass graves are still being discovered, 18 years after the massacre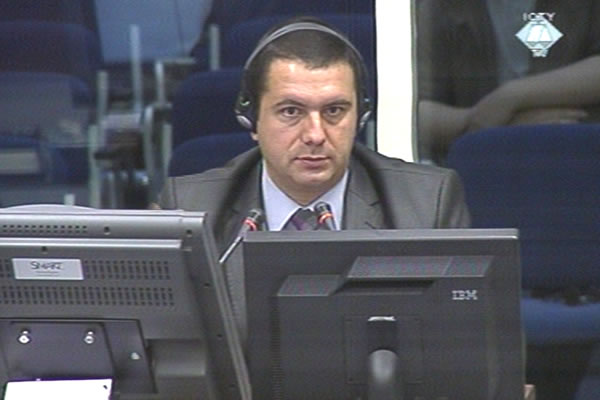 Dušan Janc, witness at the Ratko Mladic trial
The trial of Ratko Mladic continued after a three-week break with the evidence of a new prosecution witness. Dusan Janc is a police inspector from Slovenia who is currently working in the UN mission in Nairobi. From 2006 to 2009 Janc worked as an investigator for the Tribunal's Office of the Prosecutor. He was part of a team tasked with discovering and exhuming the mass graves containing the remains of the Muslim men and boys executed after the fall of Srebrenica. Janc produced a report entitled Summary of forensic evidence pertaining to the events in Srebrenica, where he compiled the data gathered by the OTP team, the BH judicial bodies and the teams fielded by the international commission on the missing persons and its BH counterpart.
Janc's first report was used at the trial of Vujadin Popovic and six other former Bosnian Serb military and police officers charged with crimes in Srebrenica. Janc updated the report for the trial of the VRS Main Staff security chief Zdravko Tolimir and then later for the trial of Radovan Karadzic. Finally, in June 2013, Janc once again amended his report, and presented it at the trial of the former Bosnian Serb army commander Ratko Mladic.
So far, 6,849 victims of the Srebrenica massacre have been identified, Janc said. Of that number, 6,056 victims were found in the primary and secondary mass graves where blindfolds and hand ties were also found on the bodies. Janc said that it was impossible to ascertain if 756 bodies that were not buried had been executed or killed in combat.
In his answers to prosecutor Vanderpuye, the witness stressed that the number of identified victims was not final since new graves were still being discovered. Since the previous report for the trial of Radovan Karadzic, two new mass graves and four individual graves containing the remains of the Srebrenica victims have been found.
A special part of Janc's report deals with the links between the primary and secondary graves. Primary graves are the sites where the victims were first buried immediately after the massacre. At one point, they were dug up and the remains were reburies in secondary graves as part of a cover-up operation. There is a lot of evidence indicating that the remains of same persons were found at empty primary graves and in one or more secondary graves.
As the hearing drew to a close, Mladic's defense counsel Dragan Ivetic began cross-examining the witness.