Home
KNIN AND PALE RECEIVED FUNDS 'EXCLUSIVELY FROM BELGRADE'
Having examined thousands of documents, the prosecution's financial expert Morten Torkildsen concluded that the Republic of Serbian Krajina and Republika Srpska 'were more or less funded exclusively from Belgrade'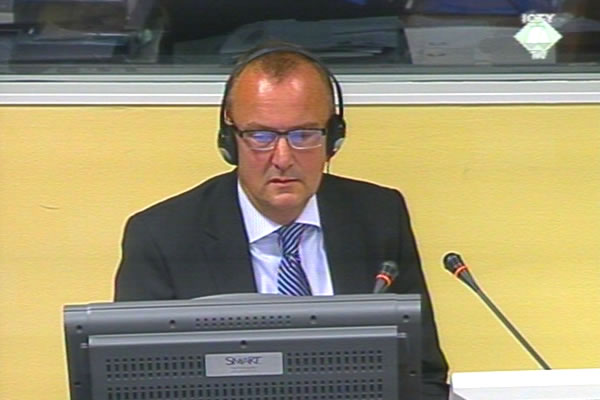 Morten Torkildsen, witness at the Goran Hadzic trial
In the reports he wrote for the prosecution for the trials of Slobodan Milosevic and Momcilo Perisic, Norwegian financial expert Morten Torkildsen concluded that the Republic of Serbian Krajina and Republika Srpska 'were more or less funded exclusively by Belgrade'. Torkildsen repeated his findings at the trial of Goran Hadzic, former prime minister of the Serb Autonomous Region of Eastern Slavonia and president of the self-proclaimed Republic of Serbian Krajina.
Torkildsen said that in early 1991 the SFRY budget received revenues from taxes. However, in the second half of 1991 the revenues flowed into the budget from the primary issue, money printed under the control of the Yugoslav National Bank. In early 1992, the National Bank started printing money fast. In Torkildsen's view, the money was used to cover the RSK and RS budgetary deficit and to provide financial support to the Serbian Army of Krajina (SVK) and the Republika Srpska Army (VRS). This was glaringly obvious from the documents he examined, Torkildsen explained.
Prosecutor Lisa Biersay showed a series of documents about the ways in which the funds were transferred and the amounts Belgrade allocated to the SVK. In a document he sent to President Milosevic, Goran Hadzic sought finances to buy ammunition and for weapons maintenance. Hadzic complained that he was not in the position to 'finance these services' and expected the FRY to do it.
When he wrote his reports, Torkildsen used the minutes from the meetings of the FRY's Supreme Defense Council. The witness explained that there were frequent reference to funding the VRS and the SVK, identified as the Yugoslav Army's 'branches'. The minutes also mention that 'huge assets are being transferred to RS and RSK'; the two entities were also receiving food, ammunition, spare parts, clothes and staff. Torkildsen said that the minutes from the meetings of the FRY's highest-ranking military and political body showed that the VRS and SVK officers were paid by Belgrade.
In the cross-examination, the defense counsel put it to Torkildsen that Zeljko Raznatovic Arkan paid his own bills at least until 17 January 1992. This was contrary to Torkildsen's report which states that Hadzic's government supported Arkan, the defense counsel argued. Torkildsen couldn't confirm that this was the case without seeing other documents. However, based on the one document showed in court, Torkildsen saw 'indications' that might support the claim that the government of the Serb Autonomous Region of Slavonia, Baranja and Western Srem didn't finance Arkan.
Goran Hadzic is charged with crimes committed by the Serb forces, including 'Arkan's men', committed in Croatia from June 1991 to the end of 1993.