Home
PATTERN OF PERSECUTION AND KILLINGS
In his evidence at the trial of Goran Hadzic, protected witness GH 023 described the pattern of the persecution of non-Serbs. First, 'shots were fired at their windows, in the streets, explosive devices were planted and there was intimidation', the witness said. According to the witness, killings followed, if persecution failed to achieve the departure of wealthy Croats. Hadzic threatened 'traitors' in a newspaper article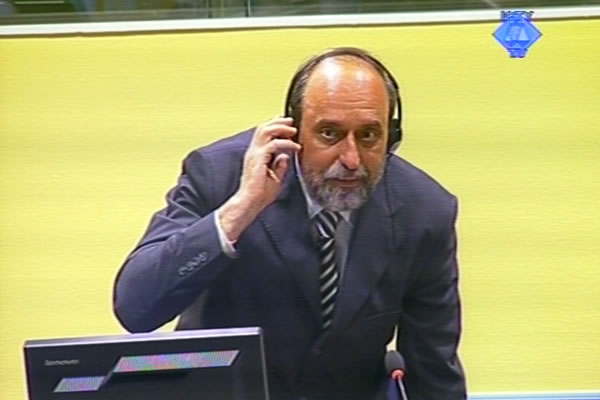 Goran Hadzic in the courtroom
A protected witness testified under the pseudonym GH 023, for the most part in closed session. In the examination-in chief, the witness spoke about the events in Beli Manastir and in other towns in Baranja from the spring of 1991 to 1993. Goran Hadzic, former Serb political leader in Croatia, is charged with the crimes committed in that period in the territory of Slavonia, Baranja and Western Srem.
The witness confirmed that the local authorities in Beli Manastir issued a number of decisions covering various areas. The decisions ranged from changing street names, issuing call-ups and prohibiting people from returning to the Baranja region. According to the witness, the idea was to 'eliminate' everything that 'had any associations with the legacy of the Independent State of Croatia' that scared Serbs the most.
The witness explained that refusing to heed the call-up carried a 'special weight' because those who 'refused to obey' were considered 'enemies and traitors'. The prosecutor showed a text from the magazine NIN, entitled River of no return. The text mentions Goran Hadzic's threat that 'those who fail to respond to the call-ups can't count that there will be room for them'. 'People will spontaneously call them traitors and the history has set aside a rigorously bad place for them', Hadzic threatened. The witness explained that people who were mobilized ended up either as recruits in the military or doing compulsory work service. Those who refused to respond to the call up faced pressure from those around them to leave Baranja. Those who left Baranja and did not have any 'objective' reasons for failing to return by 25 September 1991 were prohibited from returning, the witness pointed.
More than half of the Croats and Hungarians who lived in Baranja before the war fled, the witness said. Most of those who remained were the old people who wanted to guard their properties. Serb refugees, who were responsible for the many murders committed in Baranja, were settled in the abandoned houses. The families that were better-off were specifically targeted. 'Shots were fired into their windows, in the streets, explosive devices were planted, there was a lot of intimidation. Those who were able to bear all that and not leave were killed', said the witness, adding that 'men in police uniforms' committed the murders. This pattern was repeated in a number of places in Baranja – in Darda, Grabovac, Beli Manastir.
Today the defense counsel began cross-examining the witness. The cross-examination will continue tomorrow.