Home
PARAMILITARIES WERE UNDER JNA CONTROL
Goran Hadzic's defense tried to prove that the paramilitary formations in Vukovar were 'controlled and protected' by the JNA. Witness Vesna Bosanac confirmed the argument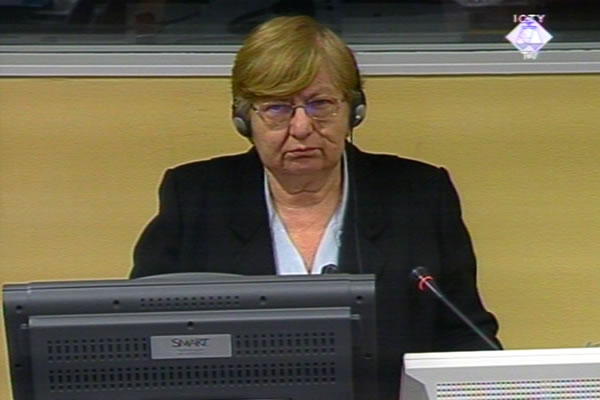 Vesna Bosanac, witness at the Goran Hadzic trial
In the cross-examination of Vesna Bosanac, the director of the Vukovar Hospital, Goran Hadzic's defense counsel insisted on the presence of the reserve and paramilitary formations in Vukovar. In the indictment against Goran Hadzic, the members of those formations were identified as direct perpetrators of the murder of about 200 men at the Ovcara farm on 20 November 1991. The units were controlled by the military, not by the civilian authorities, the defense argued.
Vesna Bosanac confirmed that she saw the paramilitaries several times in the company of the JNA. The paramilitaries obeyed the JNA officers and 'showed respect' to them, Bosanac noted. As an example, Dr Bosanac described an encounter with a 'bearded paramilitary' who treated her and her colleagues with 'anger and disgust', but 'didn't resort to force' because the witness was in a JNA vehicle en route to the Operational Group South headquarters in Negoslavci. On 19 November 1991, the witness had to negotiate the evacuation of the hospital with the Operational Group commander Mrksic. The wounded and the sick were taken to the JNA military barracks instead of the free territory. From there they were taken to the Ovcara farm where they were executed.
In an attempt to discredit the witness, the defense counsel suggested she was a member of the Croatian Democratic Union, a political party that used 'inflammatory and provocative rhetoric against the Serb minority'. Also, the defense counsel said that some Serb buildings in Vukovar were blown up. Dr Bosanac replied that she was better acquainted with the rhetoric used by the Serbian Democratic Party. It 'upset' her, the witness said. The witness heard that some restaurants in Vukovar were torched, but didn't know why. Dr Bosanac insisted that the cafes and restaurants weren't divided into Croat and Serb ones.
The defense counsel also noted that there were rumors that Dr Bosanac had not treated all patients the same during the war. When Goran Hadzic was in a TV studio for a program, and was told about the rumors, he purportedly defended Dr Bosanac. Dr Bosanac replied that she didn't know about Hadzic's reaction adding that she met Hadzic before the war. The witness then used to treat Hadzic's children.
After Vesna Bosanac completed her evidence, the prosecution called Visnja Bilic. She is an official in the Croatian Administration for Detainees and Missing Persons. In this capacity, she took part in the exhumations of mass graves in Eastern Slavonia, including Ovcara and Atar in Dalj. Her examination-in-chief will continue tomorrow.