Home
HOW HADZIC 'CLEANSED VILLAGES OF USTASHAS'
At Goran Hadzic's trial, prosecution witness Mate Brletic described the pattern of attacks on the Croat villages in Eastern Slavonia. Brletic also described how the Serb forces treated the local population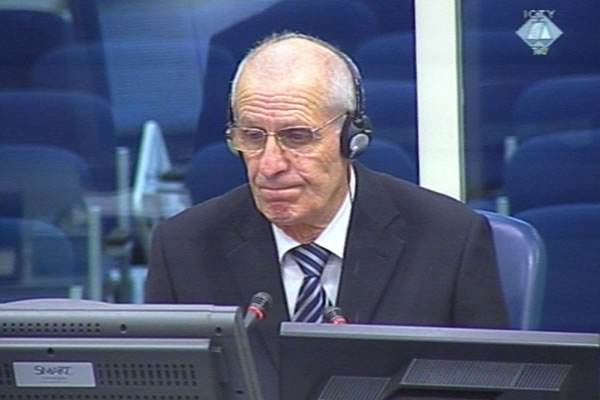 Mate Brletic, witness at the Goran Hadzic trial
In his evidence at the trial of Goran Hadzic, former commander of the Ilok police and the Territorial Defense Staff Mate Brletic described the pattern of persecution in Ilok and the neighboring villages in Eastern Slavonia. Hadzic is on trial for crimes committed in that area at the time he was the prime minister of the Serb Autonomous Region of Slavonia, Baranja and Western Srem.
As Brletic recounted, the villagers were first issued ultimatums to surrender the arms. Then the JNA artillery opened fire. Finally, the Serb forces – including the regular JNA units, the reservists, local Serbs and the paramilitaries – entered the villages and 'committed atrocities'. According to the witness, the JNA did nothing to prevent crimes; on the contrary, its actions were 'most likely' coordinated with the paramilitaries. The reservists reported to the JNA and the local Serbs reported to Hadzic's government, the witness said.
A mass exodus of the people from Ilok was organized on 17 October 1991, following a referendum at which the people had voted that they wanted to go to the territory controlled by the Croat forces, in line with an agreement with the JNA, signed three days earlier. The Croats that stayed in Ilok were treated as 'second-class citizens' and the Serb refugees settled in the village, the witness recounted. Fifteen years ago, Brletic testified about these events in detail at the trial of former Vukovar mayor Slavko Dokmanovic. Dokmanovic hanged himself in the Tribunal's Detention Unit before his judgment was rendered.
In a bid to show the attitude of the accused to the Croat population, the prosecutor showed an interview in which Hadzic confirmed that the Serb troops were busy 'cleansing the Ustasha villages' near Vukovar. 'The aim is not to kill the Croat folk en masse, but to punish criminals', Hadzic added then. Brletic noted that 'as a politician and military commander', Hadzic could have prevented the crimes in Eastern Slavonia. The witness also said there were no Ustashas in the Croat ranks: there were just the soldiers who were part of either the Croatian National Guard or the police.
The witness confirmed in the cross-examination that the activities of the Serb forces were focused on the members of the Croatian National Guard (ZNG) and the police. In the re-examination, he said the 'cleansing' had affected the civilians too. When the Serb forces didn't find any ZNG members, they would turn to civilians. Some of them were beaten and others were killed, the witness said.
In the examination-in-chief, Brletic said that he heard at a town council meeting in Ilok that Hadzic had stated earlier he would 'raze Ilok to the ground regardless of the negotiations'. In the cross-examination, Brletic explained that he was 'not in the position to confirm if Hadzic had really said that'. The trial of Goran Hadzic continues on 8 April 2013.