Home
KARADZIC SEEKS PRAISE, NOT CONDEMNATION
In the introductory statement at the beginning of the defense case, Radovan Karadzic repeated his oft-repeated arguments about the war in Bosnia and Herzegovina and the blame for it. The only thing Karadzic admitted to was his own 'social and political 'stupidity' evidenced by his 'excessive trust' in the good intentions of the Muslim and Croat side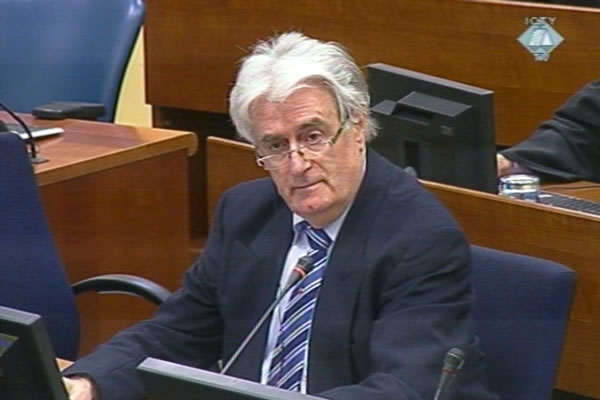 Radovan Karadzic in the courtroom
Instead of being accused and standing trial for genocide, crimes against humanity and war crimes, Radovan Karadzic should be praised for 'doing everything humanely possible to avoid the war', as he put it. When the war did break out, Karadzic 'managed to reduce the suffering of civilians and the number of victims'. About 20 survivors from Srebrenica and Prijedor prison camps watched the opening statement at the beginning of the defense case from the public gallery. The victims did not praise the accused, but expressed their discontent and disbelief.
If he should be tried for anything, it should be for his 'social and political stupidity', evidenced by his 'excessive trust' in the good intentions of the Muslim and Croat side, the positions of the international community and impartiality of the Western journalists, Karadzic said. An example of the stupidity was Karadzic's invitation to the British journalists in early August 1992 to come and see for themselves that there were no concentration camps in the Serb-controlled parts of BH. There were purportedly only investigation and transit centers. The journalists abused Karadzic's trust and took a photo of a skinny man standing in front of a barbed wire fence. It was also stupid, as Karadzic admitted now, to 'indiscriminately accept all the claims and accusations of the international community and trust them more than my own officers'; as Karadzic said, this resulted in his clashing with the officers.
Karadzic described himself as a 'gentle, tolerant person with a great capacity to understand others'. Karadzic boasted that he inherited 'a love for the Russian spirit and culture and for the British parliamentary system and monarchism' from his father. At the end of World War II, Karadzic's father joined the royal army, the Chetniks.
That was for the most part the only new element in the statement of the accused. Everything else has been rehashed by Karadzic a number of times during the two years of the prosecution case. As the accused cross-examined witnesses, he presented his view of what happened in Bosnia and Herzegovina and who was responsible for it.
Today, Karadzic repeated that Muslims and Croats started the war while Serbs only defended themselves and made 'moves they were forced to make'. In towns and municipalities with a Serb minority, by March 1992 there was 'an open season' against Serbs. In parts of Bosnia with a Serb majority, there was no war until the Muslim side started it in late May or in June.
After a 'massive attack' on Prijedor on 30 May 1992, a large number of captured Muslims and Croats were transferred to Omarska and Keraterm. Karadzic claimed that these were not camps, but prisons that were in existence only for as long as the 'investigations' were going on. Once the investigations were over, about 40 percent of the detainees were sent to Manjaca and the rest were released.
As Karadzic said, each shell fired on Sarajevo 'hurt me personally' because he had become a citizen of Sarajevo 'of my own choice'. There were 2,000 legitimate military targets and about 70,000 to 80,000 BH Army soldiers in the city, he said. All the major massacres, such as the bread queue incident and the two Markale attacks, were in Karadzic's view staged to provoke an international intervention.
Karadzic made no mention of the incriminating Directive 7 he had signed; it was admitted into evidence as a prosecution exhibit. Today, Karadzic said he had 'authorized but not ordered a small tactical operation to separate Srebrenica and Zepa'. On 9 July 1995, Karadzic 'gave his consent' for the Serb troops to enter Srebrenica but he didn't order them to do so. After he was informed that some bodies were found, he ordered 'an investigation into every death in Srebrenica'. Soon afterwards, Karadzic was forced to relinquish his post as the president to Biljana Plavsic and to withdraw from political life. After that point, Karadzic was no longer able to follow the investigation he had ordered. And that was all.
After the opening statement, Karadzic called his first witness, Russian colonel Demurenko.