Home
KARADZIC 'AMENDS' WITNESS'S STATEMENTS
In the examination-in chief of his second defense witness, Radovan Karadzic said that the Irish general marked the position of the BH Army mortar as the 'direction from which the shells were fired on the Markale market' in late August 1995. The witness contends he has never said anything of the sort. The only thing the witness did was mark the location of a BH Army mortar position he discovered in December 1995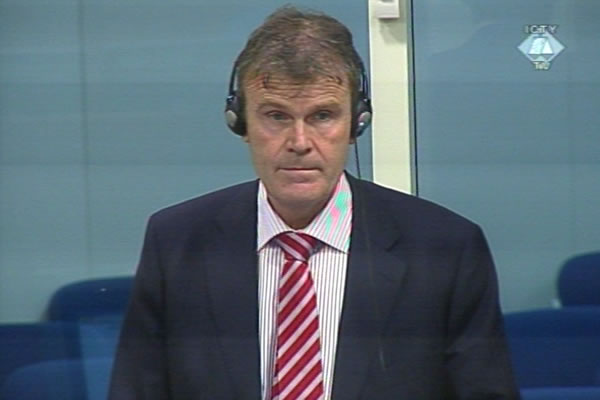 Paul Conway, defence witness of Radovan Karadzic
Irish general Paul Conway is the second UNPROFOR member to testify as Radovan Karadzic's defense witness. Conway served as a military observer in Sarajevo from August to December 1995.
Karadzic read out the summary of the witness's statement in court. On 28 August 1995 at about 11 a.m., Conway was manning Observation Post 1 when he heard several muted explosions. Conway reported to his command that he saw smoke rising from the direction of the town market but didn't know if he had heard the rounds being fired or exploding as they impacted. According to the indictment, 43 persons were killed and 75 injured when one of the five shells hit a street at the entrance to the Markale town market. The prosecution contends the shells were fired from the direction of Mount Trebevic, which was under the VRS control.
According to the witness's statement, in late 1995 he found a BH Army mortar to the south of his observation post. There were at least four mortars presighted at the city, Karadzic said. Karadzic also tendered into evidence a map on which the witness marked the positions of the military observers and the BH Army mortar. As Karadzic interpreted the Irish general's statement, the position 'was positioned in the direction from which the shell that hit Markale had purportedly been fired'.
In the cross-examination, prosecutor Kimberly West noted there was no conclusion in the witness's statement that would link the mortar position he had located with the direction from which the shell that impacted at Markale had been fired. Conway agreed with her, saying that in the statement he had given Karadzic's defense he 'didn't make any statements about that but only reported the facts I saw'. The witness also noted that he never tried to establish the direction from which the Markale shells may have been fired. The prosecution also referred to his statement where he says that the BH Army mortars were presighted on the city but didn't specify what part of the city in particular. General Conway clarified today that the mortars were presighted at Sedrenik where Serbs had their positions.
As the witness said, during the six weeks he spent at Observation Post 1, he never saw or heard any shells flying over the post from south, where the BH Army had its mortar position. The witness's colleagues never told him about any such occurrences in his absence.
As the hearing drew to a close, General Blagoje Kovacevic began his testimony. Kovacevic is currently serving in the BH Armed forces. During the war, Kovacevic commanded the 3rd Infantry Battalion of the VRS 1st Sarajevo Motorized Brigade. Kovacevic will continue his evidence tomorrow.