Home
KARADZIC GETS A BILL FROM TRIBUNAL
After an extensive investigation, the Tribunal's Registry has established that Radovan Karadzic had sufficient means to contribute € 146,501.00 towards the costs of his defense. The Tribunal will deduct the amount from future payments to Karadzic's defense team, the decision notes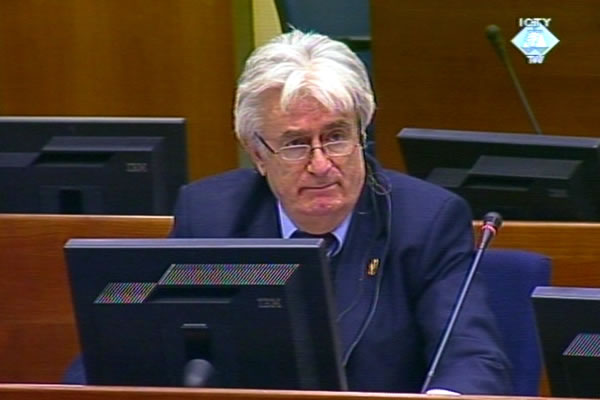 Radovan Karadzic in the courtroom
After a detailed investigation of Radovan Karadzic's financial status, the Tribunal's Registry has concluded that the accused has sufficient means to partially fund his defense. According to the Registry, Karadzic is able to contribute € 146,501.00 towards the costs of his defense.
Following his arrest in July 2008, Karadzic sent a letter to the Registry stating he wished to represent himself. Karadzic confirmed this intent in his initial appearance before the judges. In late September 2008, Karadzic submitted to the Registry a declaration of means asking the Tribunal to cover the costs of his defense team because he 'doesn't have sufficient funds'.
Under the Guidelines to determine to what extent an accused is able to contribute to defense expenses, the value of a family house or apartment, furniture and cars that exceeds the reasonable needs of the accused and other members of his family, money in bank accounts, shares, securities, income from private business enterprises and salaries and pensions are all added up to establish the assets available to the accused.
The Registry's investigation has determined that Karadzic's wife has other sources of income apart from her regular pension as she is registered as a co-owner of a company and of various pieces of real estates in Pale. The money Karadzic has in the bank account in the Detention Unit was also counted as the funds available to the accused. Interestingly enough, the family house in Pale, the house and land in Gornji Dragulj, the family car and the royalties Karadzic receives from the sales of his books have not been included as Karadzic's assets. The reasons were provided in the confidential annex to the Registrar's decision.
When the estimated reasonable subsistence costs of Karadzic's family were deducted from the total funds at Karadzic's disposal, it was established that the accused could contribute €146,501 towards the costs of his defense. According to the decision of the Tribunal's Registrar John Hocking, the Tribunal will collect this amount by docking it from future payments from the legal aid fund to Karazdic's team of advisors and investigators.
Former Republika Srpska president Radovan Karadzic is the second accused to be handed a bill by the Tribunal's Registry. According to a decision issued in August 2012, General Slobodan Praljak owes to the Tribunal over 3m euro paid through legal aid to his defense lawyers. Praljak and five other Herceg Bosna leaders are currently awaiting the judgment on the indictment for crimes against Bosnian Muslims.