Home
KARADZIC ASKS FOR MORE TIME
Radovan Karadzic has filed an interlocutory appeal against the decision of the Trial Chamber to grant him 300 hours to examine defense witnesses. The accused has indicated that in his case, set to begin on 16 October 2012, he will 'contest everything except the weather'.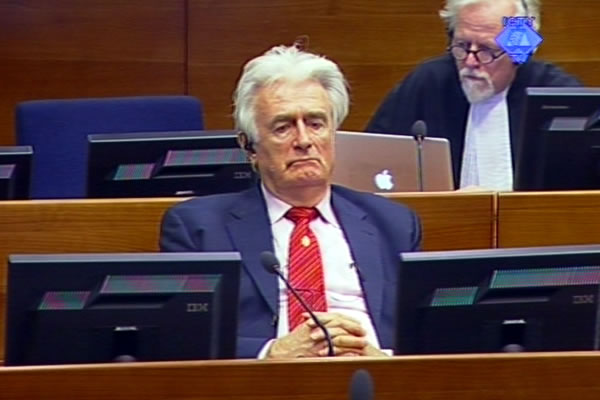 Radovan Karadzic in the courtroom
Former Republika Srpska president Radovan Karadzic has filed an interlocutory appeal against the Trial Chamber's decision to grant him 300 hours to examine his witnesses in the defense case, due to start next Tuesday.
Karadzic contends that the Trial Chamber erred when it didn't allot him sufficient time to refute more than 2, 300 adjudicated facts that the Trial Chamber has taken formal notice of in his case. Karadzic also holds that the time he used to cross-examine witnesses during the prosecution's case and 'repetitiveness' of the evidence that the Trial Chamber took into consideration while reaching the decision were irrelevant to decide about the time needed to call defense evidence. Comparing time available to the prosecution, 300 hours, with the time Karadzic used for cross-examination - more than 700 hours - is in Karadzic's view mixing up apples and oranges.
In his appellate brief Karadzic lists 32 adjudicated facts pertaining to the crimes of his subordinates in Sarajevo, Ilijas, Kljuc, Rogatica, Novoseoci, Vlasenica, Zvornik and Kozluk. Most of these facts have not been corroborated by evidence called during the prosecution's case, Karadzic argues in his brief. This is why Karadzic now wants to contest them through the evidence of the persons the facts pertain to and their associates. As Karadzic says, if these facts are not contested, they 'may be considered as the truth'.
The adjudicated facts Karadzic lists in his appellate brief pertain to Stanislav Galic and Radisav Krstic, Marko Adamovic, VRS commander in Kljuc, Dragan Stojcic, police chief in Kljuc, Rajko Kusic, the commander of the Serb forces and a high ranking SDS official in Rogatica, Branko Grujic, president of the Zvornik Crisis Staff, Marko Pavlovic, the commander of the Serb Territorial Defense in Zvornik and others.
'As the supreme military commander and civilian leader, Dr. Karadzic doesn't have the luxury of trying to shift the blame for the crimes on other people, as so many of the accused have done before the Tribunal', the accused notes in his appeal.
Karadzic asked for twice as much time as he had initially been given by the Trial Chamber for his case. In addition to the 300 hours he needs to examine about 570 witnesses he intends to call, Karadzic wants another 300 hours to refute the adjudicated facts from other trials.