Home
KARADZIC WANTS GENERAL KRSTIC TO TESTIFY
Radovan Karadzic wants the Trial Chamber to issue a subpoena to Radislav Krstic, sentenced to 35 years for aiding and abetting the Srebrenica genocide, compelling him to testify for the defense on 15 January 2013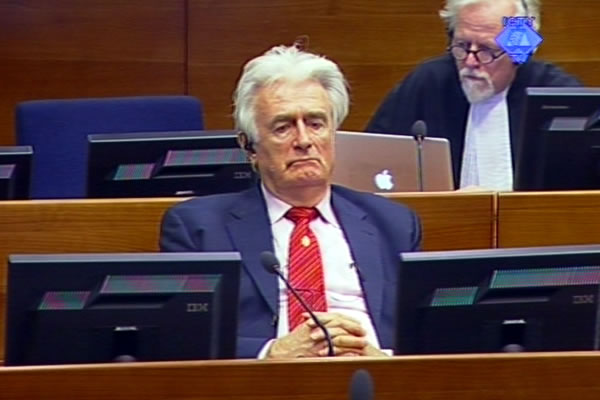 Radovan Karadzic in the courtroom
Radovan Karadzic has asked the Trial Chamber to issue a subpoena to General Radislav Krstic, former commander of the VRS Drina Corps Commander, to compel him to testify as his defense witness. Karadzic's defense case is due to start on 16 October. General Krstic is currently serving a 35-year sentence for aiding and abetting genocide.
In his motion, Karadzic notes that in August he filed a request to interview General Krstic. In late September, Krstic's defense counsel notified him that his client had refused to appear as a defense witness. General Krstic himself subsequently notified Karadzic he was not willing to testify in the defense case.
Karadzic argues in his motion that Krstic should confirm in his testimony that he had never informed Karadzic that the prisoners in Srebrenica would be executed or had already been executed. Krstic should also testify about his meeting with Karadzic on the eve of Operation Krivaja 95 and about the point made in the discussion that the operation was limited to the effort to separate the Srebrenica enclave from Zepa.
As noted in the motion, the prosecution relies on a statement Karadzic made in a TV interview, saying that General Krstic made the plan for the Srebrenica operation in Karadzic's presence, and on Karadzic's statement that he regrets that General Krstic could not ' finish it all' in Srebrenica. Furthermore, Karadzic wants to use Krstic to challenge the prosecution's allegations that the former Drina Corps commander was one of the many sources from which Karadzic received information about the events in Srebrenica.
Karadzic has asked the Trial Chamber to compel Krstic to answer those questions that may incriminate him, in line with Rule 90(E) of the Rules of Procedure and Evidence. Under this rule, the witness may refuse to answer any questions that may incriminate him, but the Chamber may compel him to answer, in which case the answers cannot be used against him in criminal proceedings, except if he is accused of perjury.
Karadzic wants Krstic to testify just after the end of the winter recess, on Tuesday, 15 January 2013.