Home
300 HOURS NOT ENOUGH FOR KARADZIC'S DEFENSE CASE
Former Republika Srpska president has sought leave to file an appeal against the Trial Chamber's decision granting him 300 hours for his case. The Trial Chamber had allotted the same amount of time to the prosecution for its case. Karadzic asked for double the amount to examine about 600 witnesses and refute more than 2,000 adjudicated facts from other cases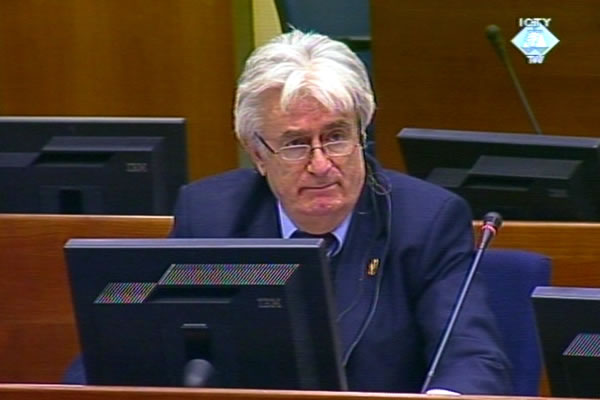 Radovan Karadzic in the courtroom
Radovan Karadzic has sought leave to file an interlocutory appeal against the Trial Chamber's decision to grant him 300 hours to examine witnesses he intends to call during his case, set to open on 16 October 2012.
Karadzic believes that the Trial Chamber erred in interpreting the effects of the adjudicated facts on the defense case. Also, the Trial Chamber erred when in concluded that some of the defense evidence was 'repetitive' and when it failed to apply a flexible approach to the time granted to examine witnesses, Karadzic contends. Karadzic seeks leave to submit an appeal on these issues.
Karadzic contends that the Trial Chamber's decision will negatively impact 'the fairness and expeditiousness of the trial'. An urgent decision of the Appeals Chamber may 'substantially expedite the trial'; this is the standard for an interlocutory appeal.
In late August 2012, the former Republika Srpska president asked for 300 hours to examine his witnesses - about 600 of them - in chief and additional 300 hours to refute more than 2,000 adjudicated facts from other cases that the Trial Chamber has taken formal notice of in Karadzic's case. Following the judges' suggestion to revise the number of witnesses, Karadzic removed ten names from his witness list.
The Trial Chamber then granted Karadzic 300 hours to examine the witnesses, taking into account the fact that the prosecution had asked for and had been given 300 hours to present its case and was able to rest after 299 hours and 27 minutes. The Trial Chamber also had in mind the fact that Karadzic took about 750 hours to cross-examine the witnesses, two and a half times more than the prosecution.
In the explanation of their decision, the judges note that in spite of a large number of adjudicated facts in this case, the Trial Chamber ''is not of the view that each single adjudicated fact needs to be addressed during the defense case'. Most of the topics covered by the adjudicated facts were discussed in the examination-in chief and the cross-examination during the prosecution case. The Trial Chamber once again expressed its ''concerns in relation to the relevance and repetitive nature of the expected testimony of a large proportion of witnesses'
Radovan Karadzic, a war-time Bosnian Serb political leader, is facing charges of genocide and other crimes in the war in BH. The prosecution opened its case in April 2010 and called a total of 196 prosecution witnesses by May 2012. Statements of 142 witnesses were admitted into evidence in written form.