Home
'EXPEDITIOUS' PREPARATIONS FOR HADZIC TRIAL
Both the prosecution and the defense are busy preparing for Goran Hadzic's trial, tentatively slated to begin on 16 October 2012. At the third status conference, the parties discussed agreed facts, disclosure and the prosecution's deadlines for witness and exhibit lists. Hadzic has 'no complaints' about his health and the conditions in the detention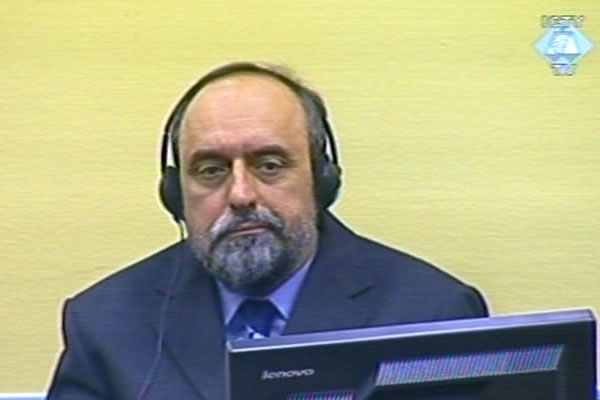 Goran Hadzic in the courtroom
The third status conference in the case against Goran Hadzic, former prime minister of the Serb Autonomous District of Eastern Slavonia, Baranja and Western Srem and the president of the so-called Republic of Serbian Krajina, focused on 'expediting' the preparations for the trial tentatively slated to start on 16 October 2012.
Goran Hadzic is charged in 14 counts with murder, persecution, detention, torture, inhumane treatment, deportation and wanton destruction in Eastern Slavonia from June 1991 to the end of 1993.
As the pre-trial judge Guy Delvoie said, the Trial Chamber has received a joint report of the parties on agreed facts. Judge Delvoie thanked the prosecution and the defense for their efforts in the preparations for the trial. The pre-trial judge set a deadline, 19 June 2012, by which the prosecution is to deliver its witness and exhibit lists and the information about any protection measures it intends to request for its witnesses who have already testified in other cases before the Tribunal. As ordered by the Trial Chamber, the prosecution must submit the witness statements by 26 June 2012.
As prosecutor Douglas Stringer reported, the prosecution is currently working on 'refocusing' the statements the witnesses had given in other cases to adapt them for the Hadzic case. After this is finalized, the prosecution will decide which witnesses will testify viva voce and where it will use the transcripts of the witnesses' previous evidence and statements.
The prosecutor also said that the disclosure process was underway, but the progress was slow because 'hundreds of thousands of documents have to be inspected by hand'. The prosecution estimated that the potentially exculpatory material could be disclosed to the defense by 26 June 2012. Prosecutor Stringer said he was trying to obtain permission to use a series of documents. The pre-trial judge said this is 'important and urgent if the trial is to start sometime in October'. The defense didn't raise any issues.
When the judge asked him about his mental and physical health and the conditions in detention, Hadzic said 'I have no complaints'.
The next status conference will be held on 13 September 2012.