Home
141 PROSECUTION WITNESSES TO TESTIFY AT GORAN HADZIC'S TRIAL
The prosecution has submitted a list of witnesses it intends to call at the trial of Goran Hadzic, former Serb leader in Croatia. The list contains the names of 141 witnesses; the prosecution has asked for 172 hours to examine them in chief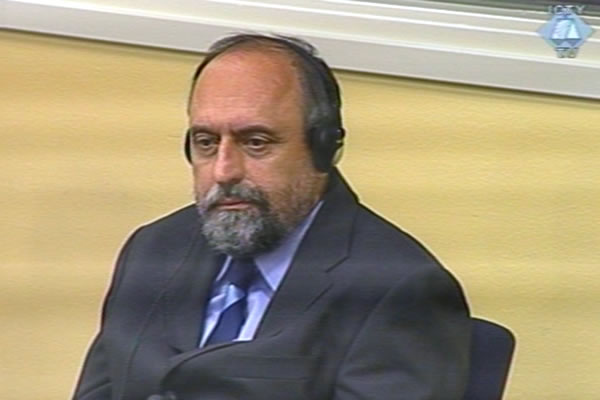 Goran Hadzic in the courtroom
As ordered by the Trial Chamber, the prosecution has submitted a list of witnesses and exhibits it intends to present in the case against Goran Hadzic, former prime minister of the Autonomous Serb District of Eastern Slavonia, Baranja and Western Srem, who later became the president of the so-called Republic of Serbian Krajina. The list is confidential because the prosecution contends that each witness, even if they have not asked for protective measures, is 'entitled to privacy until they testify'.
There are 141 names on the list; seven of the witnesses are expert, whose expert reports will be submitted later. The judges will hear testimony of 82 fact witnesses: 20 will give evidence live in court. The prosecution will tender into evidence transcripts of the testimonies of 62 remaining witnesses and the defense will have an opportunity to cross-examine them later. As for the remaining 52 witnesses, the prosecution will tender into evidence their written statements and the defense will not examine them. The evidence of these witnesses concerns the crime base, authenticity of exhibits, identity and cause of death of victims and other issues which are relevant but not related directly to the actions and behavior of the accused.
The prosecution has asked for a total of 172.5 hours to examine the witnesses and experts in chief. In other current cases, such as the trial of Radovan Karadzic, the prosecution was given 300 hours for the examination-in chief of its witnesses. In the case against Ratko Mladic, the prosecution has asked for 200 hours. Hadzic is charged in 14 counts with crimes against humanity and violations of law and customs of war in Eastern Slavonia in Croatia from June 1991 to the end of 1993.
The prosecution intends to tender into evidence more than 5,840 exhibits; 750 pertain to the exhumations and identification of victims of crimes Hadzic is charged with, 250 exhibits are laws, rules and official gazettes. The exhibit list also contains 400 'media' documents: reports, texts and videos with the statements made by the accused from the period when he headed the SAO SBZS government and the Republic of Serbian Krajina.