Home
PROSECUTION AND DEFENSE NOT READY TO PROCEED TO TRIAL IN HADZIC CASE
The prosecution and the defense in the Goran Hadzic case contend that they will not be able to meet the deadlines set by the Trial Chamber for the start of the trial. The judges want the trial to start in October 2012. The prosecution proposes that the trial begin in January 2013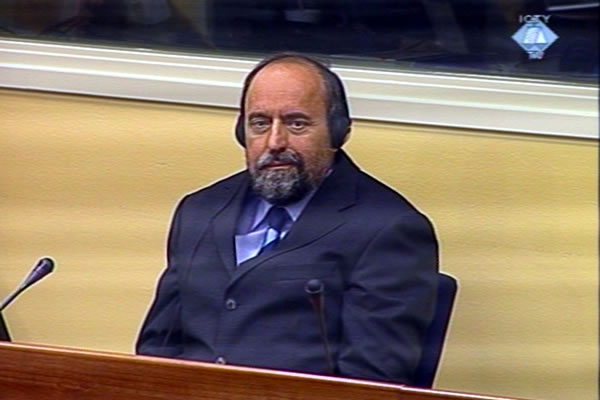 Goran Hadzic in the courtroom
The prosecution and the defense in the case against Goran Hadzic claim they will not be ready to proceed to trial by 16 October 2012, the date set for the start of the trial of the former prime minister of the SAO Slavonia, Baranja and Western Srem and the president of Republic of Srpska Krajina.
The defense contends that it cannot meet the deadlines because the Registry hasn't yet decided how to classify Hadzic's case in terms of its complexity – there are currently three levels. Depending on the classification, the Registry will finance three or five members of the defense team.
On the other hand, the prosecution highlighted as a problem the restrictions due to 'lack of funds for the Hadzic case', the Registry's directives designed to reduce prosecution teams as part of the Tribunal's exit strategy and 'the extensive work' that needs to be done in terms of witness lists and disclosure. The prosecution noted that it would be fully prepared for the beginning of the trial in January 2013.
The submission notes that at the moment of Hadzic's arrest and transfer to the Tribunal's detention, no one on the prosecution staff was assigned to his case. Over the past months, a few OTP employees have been assigned to Hadzic's case, but they have had to work simultaneously on other cases. At this time, the submission concludes, there 'are no items in the budget from which it would be possible to finance a prosecution team assigned exclusively to Hadzic case'. However, the UN General Assembly is expected to approve the budget that would cover these expenses this month.
The prosecution recalled that the crimes Hadzic is charged with happened 20 years ago and that the accused was on the run for seven years. This is why the witness list should be revised as some of the witnesses may not be able to testify today, the prosecution argues. Finding new witnesses will require additional investigations and will eventually have an impact on the final witness list. The prosecution will therefore not be able to submit the conclusive witness list by 27 April 2012 as the Trial Chamber ordered it to do. The prosecution proposed to do it by October 2012. By that time, the prosecution should also be able to disclose all the evidence and experts' reports to the defense.
Goran Hadzic is charged in 14 counts with crimes against humanity and violations of laws and customs of war in Croatia from mid-1991 to the end of 1993.