Home
MLADIC 'PERKS UP' BEFORE TRIAL
The preparations for the trial were reviewed at the pre-trial conference in the case against Ratko Mladic. The trial is due to begin on 16 May 2012 with the prosecution's opening statement. Mladic said that he had 'perked up' after his arrival in The Hague, as his health has improved. He did insist that he wouldn't be able to follow the trial if the judges decided on a full schedule of five working days per week. As Mladic said, he didn't mind if the trial lasted 'five or a hundred years'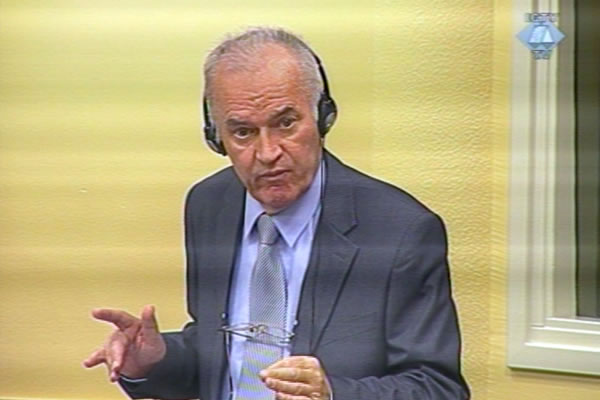 Ratko Mladic in the courtroon
At the pre-trial conference in the case of the former Bosnian Serb army commander Ratko Mladic, it was indicated that the prosecution would start its opening statement not on 14 May 2012, as initially planned, but two days later, on Wednesday, 16 May 2012. The opening statement will last six hours, or two working days. The first prosecution witness is expected to appear in court on 29 May 2012, according to the existing scheduling order. It remains to be seen if that will be the case, because the defense has sought to postpone the beginning of the prosecution case by 90 days, claiming that not all evidence has been disclosed to the defense yet.
Although the prosecution has made considerable effort in the past days to train the defense team how to use the software to search through the disclosed materials, defense counsel Lukic contends that there are still problems and that some of the documents have yet to be delivered. The undisclosed evidence, according to the defense, includes witness statements and transcripts of previous testimonies before the Tribunal and a number of documents the prosecution plans to tender into evidence. The prosecution added two more expert witnesses to its initial witness list that contains 411 names. Only about 180 witnesses will appear in court and the prosecution was granted 200 working hours for their examination-in chief. The time allotted to the defense to cross-examine each witness will depend on the number of exhibits admitted into evidence through these witnesses. The statements by other witnesses will be admitted into evidence in writing.
Judge Orie's Trial Chamber made it clear at the hearing today that it was committed to making sure the trial would proceed as efficiently as possible, with no time-wasting and the admission of excessive exhibits into evidence. The other judges in the Trial Chamber are Moloto and Fluegge.
Though this is not customary for pre-trial conferences, the judges allowed Mladic to address them. The accused said he was an old man and would not be able to participate in a trial five days a week. Mladic insisted he didn't mind if the trial took 'five or a hundred years'. This was an indication Mladic intended to file a motion for a shorter working week.
As Mladic said, he felt well despite his age and had 'perked up a bit' lately. Mladic wanted to say that to the camera 'in order for my friends to see me', and in order for his enemies 'to gnash their teeth because I am still alive'. Mladic then went off-topic completely, and referred to the Tribunal as the 'NATO commission'. The presiding judge interrupted Mladic and brought the hearing to its end.
Although the pre-trial conference ended there, it may continue next week. This depends on the results of a meeting between the prosecution and the defense at which they will try to find out where they stood with the disclosure.