Home
PREPARATIONS FOR RATKO MLADIC'S TRIAL PROGRESS APACE
The sixth status conference in the case against former Bosnian Serb army commander Ratko Mladic was held to expedite the preparations for the trial. Mladic demanded to be allowed to wear his general's uniform and military cap, protested against the Tribunal calling it a 'partial NATO court' and expressed his concern over the fate of the planet if Iran should come under attack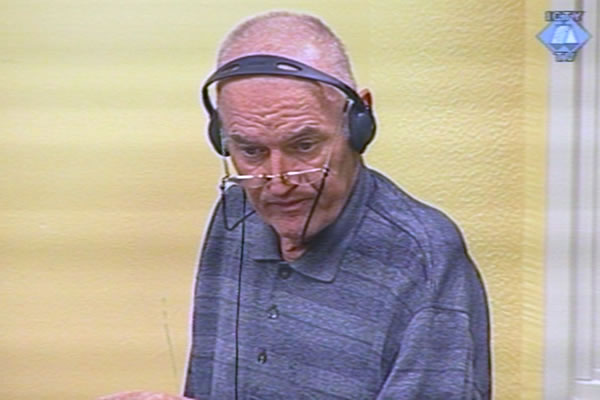 Ratko Mladic in the courtroom
At the sixth status conference in the case against Ratko Mladic, presiding judge Alphons Orie confirmed that the trial of the former commander of the VRS Main Staff would begin on 14 May 2012 with the opening statement of the prosecution and the defense and the accused if they wished to present it. Two weeks later, on 29 May 2012, the prosecution will start calling evidence. The prosecution has already submitted its witness list with the names of 410 witnesses, including 386 fact witnesses. Others will submit expert reports. Most of the witnesses will present their evidence in writing, either in the form of their statements to the OTP investigators or transcripts of their evidence in other cases. Only seven witnesses will present their entire evidence viva voce in court. The defense will have the opportunity to cross-examine 141 witnesses. Mladic is charged with double genocide and other crimes in Bosnia and Herzegovina from 1992 to 1995.
The goal of this and other status conferences is to follow the progress of the pre-trial efforts and the preparations for the trial. After a lengthy discussion of technical issues, the disclosure of evidence, agreed and adjudicated facts and expert reports, Judge Orie gave the floor to the accused.
At the beginning of his 15-minute presentation, Mladic said that he had asked his wife to send him his full combat uniform, as he was now wearing the clothes he wore 'during the war and after the war' and, as he put it, 'in exile', while he was hiding from international justice. Mladic went on to show a series of family photos, lamenting that 'for some reason' he was denied the right to visit his mother's grave and the graves of his other deceased relatives. Mladic then started launching accusations, stating 'I and my nation' were on trial before a 'partial NATO court'. 'I don't want to turn this into a circus', Mladic said, noting he was an 'old man'. To him, it 'does not matter how long I will last'; what matters is 'for me to leave an impact on people'.
Before Judge Orie switched off his microphone, Mladic once again repeated his request to be allowed to wear 'a Russian cap' in court. Mladic also expressed his concern over the future of the planet as it was, in his opinion, in danger from 'NATO's expansion into Africa and Asia'. As Mladic said, 'I want to protest to end all the wars in the world', adding that 'once NATO attacks Iran, it will be pointless to hold conferences'. Finally, Mladic concluded saying that 'seven countries in Asia have nuclear weapons' and it was enough to destroy them in their depots and 'our planet will be no more'.
As the hearing drew to a close, Mladic raised his right arm with a clenched fist and compared himself with Afro-American athletes who raised their fists in black gloves in support of the fight for human rights in 1968 in Mexico City.
The next status conference has been scheduled for 29 March 2012.