Home
MLADIC TRIAL WILL NOT BE POSTPONED
Judge Orie's Trial Chamber dismissed the fifth motion filed by the defense, in which it sought that the trial be postponed for 90 because of the disclosure delays. The opening statements have been scheduled for 16 and 17 May 2012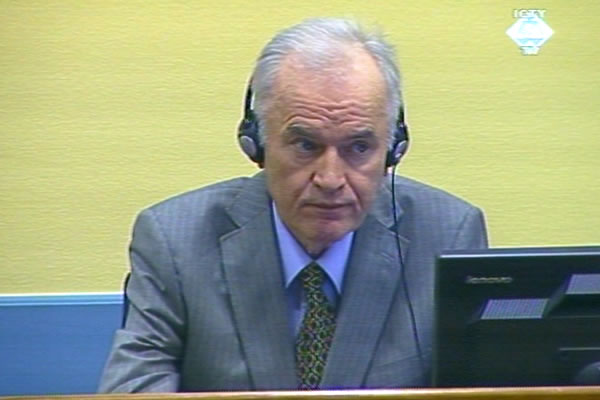 Ratko Mladic in the courtroom
The trial of the former Bosnian Serb army commander Ratko Mladic will definitely open on 16 and 17 May 2012 as scheduled, with the prosecution's opening statement. The plan is still for the prosecution to call its first witness on 29 May 2012. The situation might change if there are any further disclosure delays.
In its decision, the Trial Chamber, with Dutch judge Orie presiding, thus dismissed the latest defense motion in which it asked the judges to set the date for the start of the prosecution case 90 days after the defense has received all the documents it needs.
These materials may be exculpatory for the accused. Among the documents are witness statements, transcripts of their previous evidence and other items the defense will need in order to prepare for the trial. At the second part of the pre-trial conference on Thursday, it was said that the most of the documents pertaining to the first 23 witnesses who are slated to testify before the summer recess have been disclosed to the defense. Some of the transcripts of the witnesses' previous testimonies are available at the Tribunal's public website.
Yesterday, the Trial Chamber indicated it might act in the course of the prosecution case as required, by postponing the evidence of some witnesses or recalling them for additional cross-examination if there are any delays in the disclosure of evidence to the defense.
A detailed explanation of the decision will be forthcoming, the judges indicated.
Ratko Mladic is facing the same charges as the former Republika Srpska president Radovan Karadzic: taking part in four joint criminal enterprises in Bosnia and Herzegovina. The first joint criminal enterprise was the ethnic cleansing aimed at a forcible and permanent removal of Bosnian Muslims and Croats from large parts of BH in 1992, which reached the scale of genocide in several municipalities. The other joint criminal enterprises are the artillery and sniper terror campaign against civilians in Sarajevo, taking UN staff hostage in May and June 1995 and the genocide in Srebrenica in July 1995. The prosecution will present its case in five stages. After the introductory part, expected to last from 29 may to 13 July 2012, the prosecution will devote a segment to each joint criminal enterprise.