Home
MLADIC'S DEFENSE INSISTS TO POSTPONE TRIAL
In response to the prosecution's latest motion to extend the deadline for the disclosure of potentially exculpatory materials to Ratko Mladic's defense, his lawyers recalled that the deadline has already been extended once. They insist that the trial, slated to begin on 16 May 2012, be postponed to a date 90 days after the prosecution completes disclosure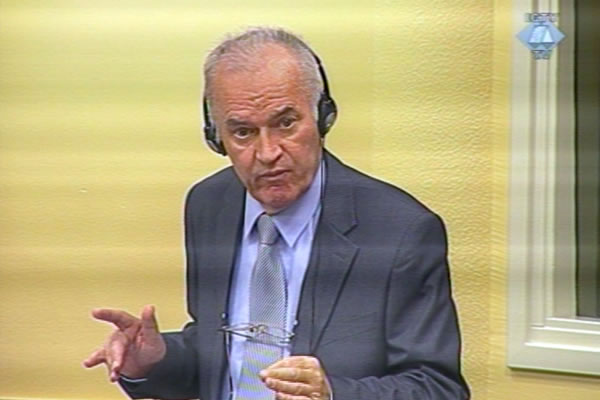 Ratko Mladic in the courtroon
Ratko Mladic's defense responded today to the recent request of the prosecution to extend from 30 April to 8 June the deadline for the disclosure of all the material 'may suggest the innocence or mitigate the guilt of the accused'.
A previous scheduling order indicated that Mladic's trial would begin with the opening statement of the prosecution on 16 May 2012 and continue on 29 May 2012 with the evidence of the first prosecution witness. The prosecution said it would call evidence in five stages. In the first part, expected to end by 13 July 2012, the prosecution will present a detailed overview of the case. After the Tribunal's summer recess, the prosecution will call evidence on the artillery and sniper attacks on the citizens of Sarajevo, taking UN Staff hostage, crimes in BH municipalities in 1992 and the massacre of civilians in Srebrenica. Mladic is charged with double genocide, crimes against humanity and violations of laws and customs of war.
As the defense lawyers insisted, they understand the problems the prosecution faces in its bid to deliver all potentially exculpatory evidence. However, they recall that the very volume of the materials means the defense would need a long time to review them. This in turn will 'drastically shorten' the time the defense has to prepare for the trial. The motion stresses the importance of the disclosure of such materials, adding that it would be 'reasonable and proper' to postpone the trial in such circumstances.
The defense used the example of Radovan Karadzic's trial. After the prosecution disclosed 32,000 pages to the defense, the judges ordered a six-week break. The defense also recalled that their team was far more 'limited' than the human resources the prosecution had at its disposal.
The defense argued that extending the deadline for the disclosure had already caused problems which could only be dealt with if the trial were to be postponed. Any additional extensions of the deadlines would result in new delays. Specifically, the defense wants the trial to begin 90 days after the prosecution has disclosed all potentially exculpatory materials, regardless of the deadline. The initial deadline was set on 30 April and may be extended to 8 June.