Home
EVIDENCE AGAINST MLADIC TO BE CALLED IN FIVE 'SEGMENTS'
As the preparations for Ratko Mladic's trial enter its final stage, the prosecution has indicated it would present its case in five segments. In the first, introductory, segment, which will start in late May and last until 13 July 2012, the prosecution will present an 'overview of the entire case'. The other four stages will present evidence about the terror campaign in Sarajevo, taking UN staff hostage, crimes in BH municipalities in 1992 and the Srebrenica genocide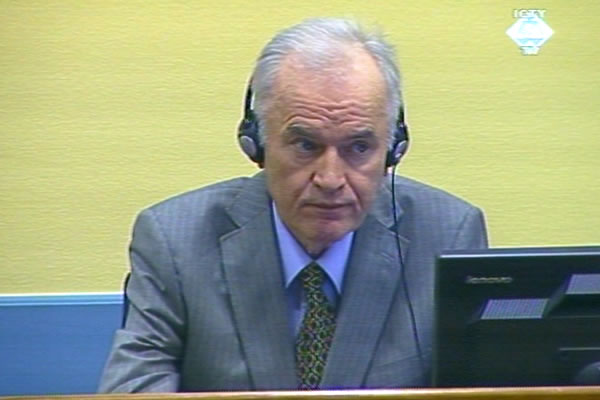 Ratko Mladic in the courtroom
Less than a month before the start of the trial of former commander of the Bosnian Serb army Ratko Mladic, the prosecution has today submitted to Judge Alphonse Orie's Trial Chamber its work plan: an outline of the prosecution case. The trial is set to begin on 14 May 2012 with the prosecution's opening statement. The opening statement will take six hours, as indicated in the brief, and the first evidence will be called on 29 May 2012. The prosecution case will be divided into five segments.
Ratko Mladic is charged, as is the former Republika Srpska president Radovan Karadzic, with participation in four joint criminal enterprises in the territory of Bosnia and Herzegovina. The first joint criminal enterprise is the ethnic cleansing aimed at achieving a forcible and permanent elimination of Bosnian Muslims and Croats from large parts of the BH territory in 1992. In several municipalities, the ethnic cleansing reached genocide scale. Three other joint criminal enterprises are the artillery and sniper terror campaign against civilians in Sarajevo, taking UN personnel hostage in May and June 1995 and the genocide in Srebrenica in July 1995. The prosecution case will be divided into five segments. Each joint criminal enterprise will be dealt with in its own segment.
In the brief filed today, the prosecution has presented in detail the first, introductory segment, which will last from 29 May until 13 July this year. The prosecution will call evidence relating to the entire period covered in the indictment, including the evidence on two massacres against civilians in 1992, cruel treatment and murders in two prison camps, the start of the shelling campaign in Sarajevo, two sniper attacks on civilians in the town and a mass killing of the captured inhabitants of Srebrenica in 1995. In the first segment, the prosecution will also call evidence on the structure of the VRS and the role of its commander, Ratko Mladic.
In the first stage of the trial, the prosecution will call a total of 23 witnesses. Through the testimony of David Harland, a UN official who was in BH during most of the war, the prosecution will present evidence which will bring together the different parts of the indictment. Among the witnesses is a prosecution military expert, former chief of the British Army General Staff, Richard Dannat. His evidence and expert report will focus on the military operations and Mladic's role in them.
The prosecution used a similar approach at the trial of Radovan Karadzic, where it has been calling evidence in stages. The prosecution case at the Karadzic trial is now in the final stage, dealing with the genocide in Srebrenica.