Home
RATKO MLADIC'S TRIAL TO BEGIN ON 14 MAY 2012
The trial of Ratko Mladic, former commander of the VRS Main Staff, for genocide and other crimes in BH is slated to begin on 14 May 2012. After the opening statements, the prosecution will call its first witnesses of the 410 witnesses on 29 May 2012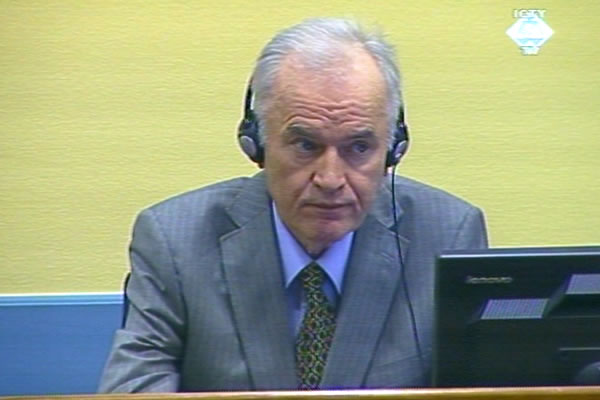 Ratko Mladic in the courtroom
The trial of Ratko Mladic, former commander of the VRS Main Staff, is scheduled to begin on 14 May 2012. A pre-trial conference will be held on 17 April 2012.
The trial had been originally scheduled to start on 27 March 2012, but the Trial Chamber decided to give both parties additional time for preparations. The Trial Chamber ordered the prosecution to deliver the opening statement on 14 May 2012. Furthermore, at the beginning, the number of sessions will be limited to allow the parties additional time to prepare. The decision setting the trial date, signed by presiding judge Alphons Orie, specifies that after the opening statements, the prosecution will call evidence from 29 May to 13 July 2012. There will be a break after that until 20 August 2012.
The prosecution has recently indicated it would call a total of 410 witnesses. Of that number, 158 witnesses will testify in court. Most of the witnesses will give written statement and will only be cross-examined by Mladic's defense.
The Trial Chamber also ruled that the health of the accused didn't require any modifications in the sitting times. There is no need to sit for less than five days a week and to have shorter hearings. However, the judges have granted the defense's request for morning sessions only. A new status conference, part of the preparations for the trial, will be held on 29 March 2012.
Former commander of the VRS Main Staff faces charges of genocide and other crimes in Bosnia and Herzegovina, committed as part of a joint criminal enterprise which included former RS president Radovan Karadzic, who is currently on trial for the same crimes. Ratko Mladic was arrested on 26 May 2011 after 16 years on the run.