Home
410 PROSECUTION WITNESSES AT RATKO MLADIC'S TRIAL
The prosecution has submitted the list of witnesses and exhibits it intends to call at the trial of the former commander of the VRS Main Staff for genocide and other crimes in BH. The prosecution plans to call a total of 410 witnesses, including 25 experts. About 150 witnesses are expected to appear in court; the rest will submit written statements. The prosecution needs approximately 200 hours to examine its witnesses in chief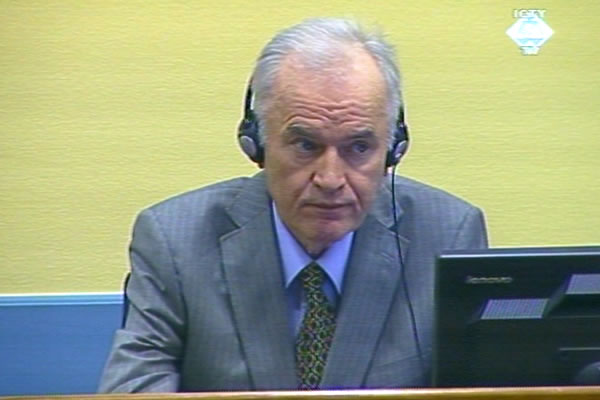 Ratko Mladic in the courtroom
The prosecution team in the case against Ratko Mladic, former commander of the VRS Main Staff, has submitted a list of witnesses and exhibits it intends to call in the course of its case. The list itself has been submitted under seal, but the basic statistical data have been made public in an attachment.
According to the document, 410 names are on the witness list: 385 are fact witnesses and 25 are expert witnesses. The prosecution intends to call 148 witnesses to testify in court, but most of them will provide their written statements, and Mladic's defense will cross-examine them in court. Only seven witnesses will testify viva voce which means that they will give their entire evidence in court. The prosecution also plans to examine 10 of its 25 experts in court.
The prosecution estimated that about 200 hours would be necessary for the examination-in chief of the witnesses who will appear in court. This is 100 hours less than in the case against Karadzic. Statements or transcripts of evidence of 220 witnesses will be tendered into evidence. Many of those witnesses will testify about the authenticity of other evidence, the identity and cause of death of victims and other issues which are not directly related to the alleged acts of the accused. Eighteen prosecution witnesses have died in the meantime and the prosecution will move to tender into evidence their previous testimonies from other trials or their statements to the OTP investigators.
The prosecution's list contains 27,906 exhibits, mostly documents originating from the VRS and RS government and ministries and the documents pertaining to the recovery and identification of victims' remains. Among the exhibits are the personal notebooks and audio and video materials seized in Ratko Mladic's house.
In order to facilitate the defense preparations, the prosecutors identified 19,579 priority exhibits, including 2,316 top priority ones. The trial is scheduled to open on 27 March 2012 but the defense contends that it will not be ready because of the disclosure issues. The prosecution denied there were any problems and asked the judges to schedule a hearing to discuss the issue. The next status conference has been scheduled for 23 February 2012. There will also be an extra status conference on 7 March 2012.