Home
PARTIES REST THEIR CASES AT ZDRAVKO TOLIMIR'S TRIAL
Zdravko Tolimir, former Mladic's assistant for security and intelligence in the VRS Main Staff, rested his case after the evidence of his fourth and final witness. Tolimir is charged with genocide and other crimes in Srebrenica and Zepa in 1995. The closing arguments will be delivered in August 2012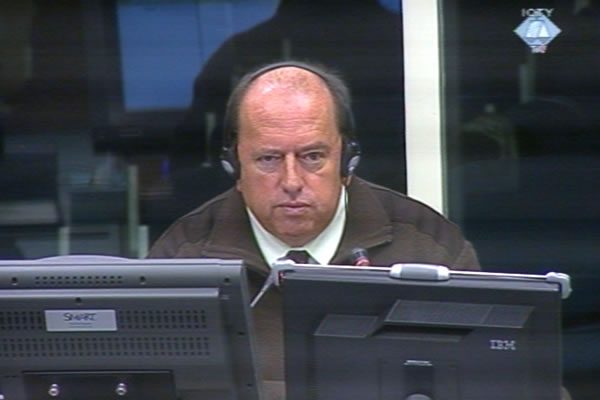 Slavko Culic, defence witness of Zdravko Tolimir
The final witness of Zdravko Tolimir's defense, retired VRS officer Slavko Culic, was the last witness called at the trial of the former Mladic's assistant for security and intelligence. Zdravko Tolimir is on trial for genocide and other crimes in Srebrenica and Zepa in 1995. The trial began in February 2010. The court heard 130 witnesses: 126 were called by the prosecution. Only four witnesses testified in the defense of the accused general.
The last of Tolimir's four witnesses, Slavko Culic, confirmed today that from late July to mid-October 1995 he met with General Tolimir '10 to 15 times' on the Western front in Krajina. Culic commanded one of the brigades of the VRS 1st Corps. The Main Staff had set up its Forward Command Post in his barracks. Culic said that the Main Staff moved to the Forward Command Post in late July 1995, when the Croatian Army and the BH Army launched their joint offensive on the VRS positions.
Apparently, Tolimir called Culic in a bid to secure an alibi for the period from 1 August to 1 November 1995. The indictment alleges that at that time the Republika Srpska army and police dug up primary mass graves in the areas of responsibility of the Zvornik and Bratunac Brigades and transferred the bodies to other locations to cover up the executions of Bosniaks captured after the fall of Srebrenica.
In the cross-examination, the prosecutor showed the witness some documents which state that Tolimir attended the session of the RS Assembly in Pale on 6 August 1995 and that he was present at the peace talks in Geneva on 26 and 27 August 1995 as a member of the RS delegation. The witness didn't contest the accuracy of those facts, but he explained that he didn't know that Tolimir took part in the RS Assembly session. As for Tolimir's presence at the peace talks, he learned about it from the media. Culic also told the prosecutor that there was no special reason why he would have to know Tolimir's whereabouts from late July to mid-October 1995, except for the 10 to 15 encounters he described in his testimony.
The remaining housekeeping matters at the trial of Zdravko Tolimir will be discussed at a hearing scheduled for next Tuesday. Yesterday, the Trial Chamber indicated that the parties will deliver their closing arguments on 21 and 22 August 2012.