Home
GORAN HADZIC PLEADS NOT GUILY
Former president of the former Republic of Serbian Krajina Goran Hadzic today pleaded 'not guilty to the charges contained in the indictment'. Presiding judge Guy Delvoie did not read out the counts in the indictment charging Hadzic with crimes against humanity and violations of laws and customs of war in Croatia between June 1991 and December 1993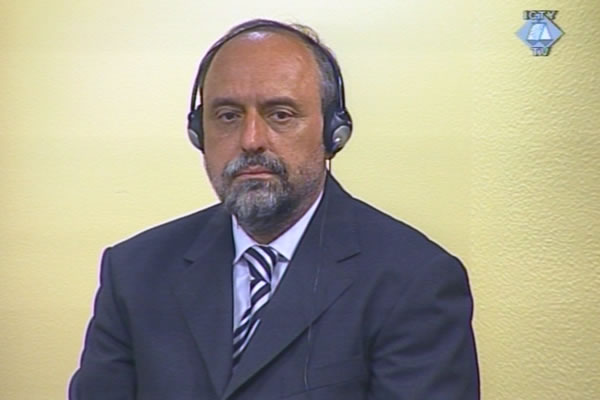 Goran Hadzic in the courtroom
In his second appearance before a Tribunal's judge, former president of the self-proclaimed Republic of Serbian Krajina Goran Hadzic today pleaded 'not guilty to the charges contained in the indictment'. This was the shortest initial or second appearance of an accused in the Tribunal's history: it took less than ten minutes.
Yet again, there was no mention in the courtroom of the crimes Goran Hadzic is charged with. As at his initial appearance before Judge O-Gon Kwon on 25 July, Hadzic waived his right to have the indictment read out to him. It has been standard practice before the Tribunal, in the interest of the public, for a judge to outline the general allegations in the indictment and then to invite the accused to enter his plea on each individual count. Belgian judge Guy Delvoie who was in charge of the hearing today merely asked the accused how he pleaded to the 'charges listed in the indictment'. He did not specify any of the 14 counts. Hadzic tersely replied, 'not guilty'. And that was the end of it.
Goran Hadzic is charged with taking part in a joint criminal enterprise whose objective was to 'forcibly and permanently remove most of the Croat and other non-Serb population from a large part of Croatia', in order to turn this territory into 'a part of a new state under Serb dominance'. In the 14 counts of the indictment, Hadzic is charged with persecution on political, racial or religious grounds, extermination, murder, detention, torture and cruel treatment of Croats and other non-Serbs in detention facilities at the Ovcara farm, Velepromet in Vukovar, in Erdut, Dalj and Borovo Selo and in five locations in Serbia, where Croatian prisoners were held: the farms in the villages of Stajicevo and Begejci, the JNA barracks in Zrenjanin, and military prisons in Sid and Sremska Mitrovica. Hadzic is charged with the deportations and forcible removal of the population and wanton destruction of towns and villages and plunder of property belonging to the non-Serb civilians in Dalj, Vukovar, Erdut, Lovas and other places in Eastern Croatia. Those crimes are qualified as crimes against humanity and violations of laws and customs of war.
Hadzic was today represented by duty counsel Zoran Zivanovic. Judge Delvoie sits in the Chamber with judges Burton Hall, of Bahamas, and Antoine Mindua, of Congo.
Hadzic was arrested in Serbia on 20 July 2011. He was transferred to the Tribunal two days later. He had been on the run for seven years.