Home
CHARGES AGAINST DRAGOMIR PECANAC
According to the order in lieu of indictment made public at the Tribunal, Dragomir Pecanac refused to testify "for reasons of health and also because an indictment has been raised against him in Sarajevo and a criminal report filed in Belgrade on the same grounds". Ruling that the reasons were insufficient to justify his failure to comply with the subpoena and testify, the Trial Chamber charged Pecanac with contempt of court. The decision was reached by a majority vote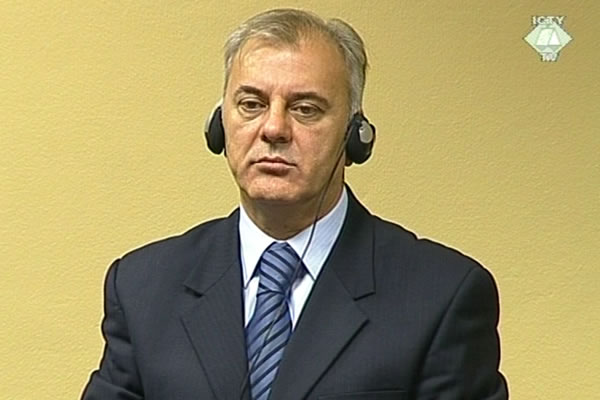 Dragomir Pecanac in the courtroom
The Trial Chamber today declassified the order in lieu of indictment issued on 21 September 2011 against Dragomir Pecanac, former intelligence officer in the VRS Main Staff. In his plea to the counts in the order this morning, Pecanac said that he was not guilty of contempt of court; the charges stem from his failure to comply with a subpoena compelling him to testify at the trial of General Zdravko Tolimir. Tolimir is on trial for genocide and other crimes in Srebrenica and Zepa in the summer of 1995.
The order goes on to say that Pecanac received the subpoena to testify on 2 September 2011. At that time, Pecanac said he was 'willing to appear before the Trial Chamber' but couldn't testify "for reasons of health and also because an indictment has been raised against him in Sarajevo and a criminal report filed in Belgrade on the same grounds". The Trial Chamber noted that Pecanac didn't submit the documents to support his claims about ill health. According to the Trial Chamber, the Sarajevo indictment and the criminal report in Belgrade 'do not amount to a just excuse' for refusal to give evidence. Pecanac was granted the so-called 'safe passage', a guarantee that he would not be arrested and detained in The Hague or extradited to Sarajevo.
The order in lieu of indictment also states that the staff of the Tribunal's Victims and Witnesses Section had put in motion the preparations for Pecanac's arrival in The Hague; they contacted him three times. Pecanac refused to communicate saying he didn't want to speak to "unidentified persons" over the phone. Then, on 12 September 2011, the liaison officer in the Tribunal's Belgrade office contacted Pecanac to discuss face to face his travel to The Hague and the guarantees for 'safe passage' he was to be given. Pecanac refused to meet the liaison officer, saying he 'will not talk to or meet anyone from the Tribunal'. Pecanac told the Tribunal's staff that they could get in touch with him only through the local authorities.
According to the Trial Chamber, Pecanac's behavior is "obstructive" and "constitutes a failure to comply with the Subpoena without just excuse". The Trial Chamber says that it 'has reasons to believe' that Pecanac may be in contempt of court and has therefore decided to issue an order in lieu of an indictment and order his prosecution. The decision was taken by a majority vote, with Judge Nyamba from Zambia dissenting.