Home
GORAN HADZIC IN TRIBUNAL'S DETENTION UNIT
Former president of the self-proclaimed Republic of Serbian Krajina Goran Hadzic was transferred this afternoon to the Tribunal's Detention Unit. Hadzic will have his initial appearance before Judge O-Gon Kwon on Monday, 25 July 2011 at 4 p.m.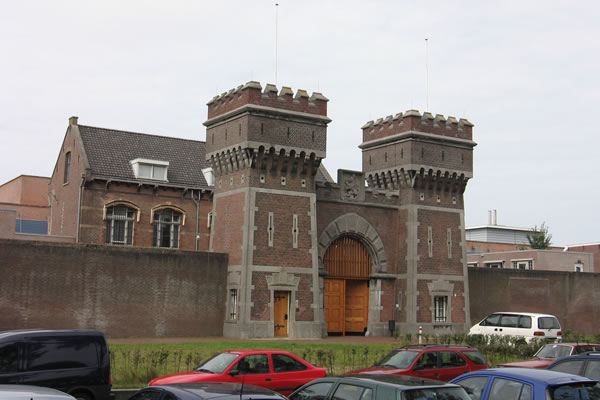 Scheveningen prison
Goran Hadzic, the last fugitive from international justice, was transferred to the UN Detention Unit in Scheveningen today, the Tribunal has confirmed. Hadzic is charged with crimes against humanity and violations of laws and customs of war in Croatia from June 1991 to December 1993.
On his arrival in the Detention Unit, the ICTY Registry staff acquainted Hadzic with the rights of the accused and explained the basic rules in the detention unit and of the court proceedings. In line with the standard procedure, Hadzic was served with the indictment against him. He will then undergo a medical exam. Hadzic will spend his first few days in The Hague apart from other detainees.
Hadzic's initial appearance before Judge O-Gon Kwon is slated for Monday, 25 July 2011, at 4 p.m. The accused will then be invited to enter his plea on the allegations in the indictment; he is charged in 14 counts with crimes against humanity and violations of laws and customs of war. Hadzic can make his plea immediately or choose to postpone it for 30 days.
The indictment alleges that Hadzic was part of a joint criminal enterprise aimed at forcible and permanent elimination of Croats and other non-Serbs from almost one third of the Croatian territory. That territory was to become part of a new state under Serb domination.
Goran Hadzic is charged with persecution on political, racial and religious grounds, extermination and murder of hundreds of Croats in Vukovar, Dalj, Erdut, Lovas and the village of Klisa, the arrest, torture and cruel treatment of thousands of Croats in detention facilities in Eastern Slavonia and Serbia, deportation and forcible transfer of tens of thousands of Croats, wanton destruction of towns and villages and looting of public or private property.
The indictment against Goran Hadzic was issued in July 2004. Hadzic vanished from his house in Novi Sad on the day when the sealed indictment and the warrant for his arrest were served on the Serbian authorities. Hadzic was in hiding until 20 July 2011 when he was arrested in Fruska Gora in Vojvodina.
It is interesting to note that on 1 June 2011, the prosecution filed a motion seeking leave to amend Hadzic's indictment in order to make the allegations of individual criminal responsibility of the accused more specific, include command responsibility of the accused and add some more towns and villages attacked by forces under Hadzic's command and control in the counts alleging persecution and wanton destruction. Belgian judge Delvoie granted the motion in a confidential decision on 19 July 2011, one day before Hadzic's arrest. Today, before the accused was transferred to the Tribunal's Detention Unit, the judge unsealed the decision.