Home
KARADZIC CALLS FOR ANOTHER ADJOURNMENT
Radovan Karadzic has asked the Trial Chamber to order his trial to be suspended for the fifth time since its beginning, for another two months. Karadzic has asked for more time to go through another set of documents that the prosecution disclosed to him in March 2011. If the motion is granted, the trial would continue on 15 August 2011, after the Tribunal's summer recess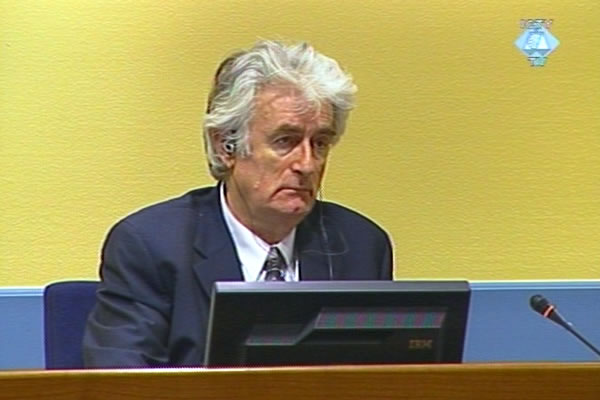 Radovan Karadžić u sudnici Tribunala
For the fifth time, the former Republika Srpska president Radovan Karadzic has asked the Trial Chamber to order the suspension of his trial for two months. This would extend the current break in the trial until the end of the Tribunal's summer recess on 15 August 2011. The main reason for this request is the disclosure of another set of potentially exculpatory documents by the prosecution in March 2011.
Karadzic singled out six documents that included his instructions to insure 'unhindered' passage of humanitarian aid convoys, an article on arms being smuggled in a convoy escorted by the Canadian Battalion, a VRS report on an investigation into an attack on the UNPROFOR staff and the purported punishment of the perpetrators, and a confidential document drafted in October 1992 claiming that the Pale government did not exert any control over the local Serb authorities 'not even in Ilidza'.
Karadzic explains that the prosecution disclosed the documents to him in March 2011, although they were in its possession for years. The documents were only 'the tip of the iceberg' in terms of the violations of disclosure deadlines, the accused claims. In March 2011, the prosecution disclosed to the defense 23,457 pages of various materials and 88,955 pages of documents authored by prosecution witnesses.
According to Karadzic, the 'exculpatory' nature of the disclosed documents is reflected in the fact that they shed new light on the prosecution's allegations that Karadzic deliberately held back humanitarian aid convoys, waged a campaign of terror against the Sarajevo citizens and failed to punish the perpetrators of crimes from the VRS ranks.
Karadzic contends that the disclosed documents show 'careful inspections' of the humanitarian aid convoys were necessary, that he launched investigations and punished those that fired on the UNPROFOR staff, and that he 'did his best' to ensure that the humanitarian aid convoys could enter Sarajevo and other towns in BH. According to Karadzic, the documents also show that in 1992 the Republika Srpska government did not exercise any control over the local authorities, and Karadzic therefore cannot be held responsible for the crimes committed in the BH municipalities.
In light of an earlier order of the Trial Chamber to the prosecution to complete the disclosure of all potentially exculpatory documents by 31 March 2011, this is the last chance for the suspension of his trial on the grounds of a violation of Rule 68 bis of the Rules of Procedure and Evidence, Karadzic notes.
The trial of Radovan Karadzic for genocide and other crimes in BH should continue on 23 May 2011.