Home
KARADZIC WANTS TO CROSS-EXAMINE ERDEMOVIC
Former Republika Srpska president Radovan Karadzic wants to call Drazen Erdemovic to The Hague and cross-examine him because the defense has obtained 'new, potentially exculpatory, information'. Erdemovic's evidence at the Srebrenica Seven trial was admitted into evidence in the Karadzic case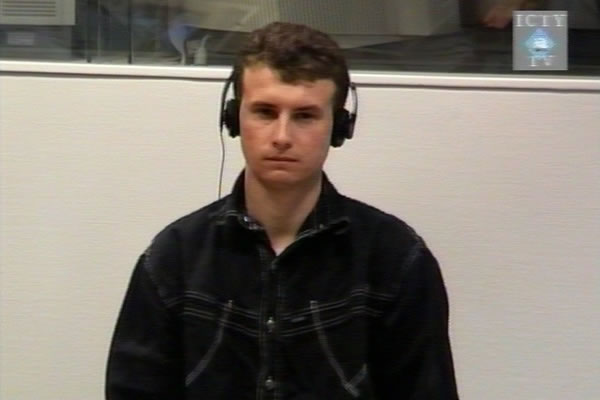 Drazen Erdemovic in the courtroom
Former Republika Srpska president Radovan Karadzic filed a motion demanding that Erdemovic, former member of the VRS 10th Sabotage Detachment, be summoned to the Tribunal to be cross-examined, because the defense is in possession of 'new, potentially exculpatory information'. Karadzic hopes to prove in the cross-examination that Erdemovic was a member of a paramilitary formation that executed the Srebrenica Muslims "for the gold" and not to fulfill the alleged genocidal aspirations of the Bosnian Serb authorities.
In December 2010, the Trial Chamber hearing the case against Radovan Karadzic decided to admit into evidence the transcript of Erdemovic's testimony at the trial of Popovic et al. in May 2007, without any cross-examination, in line with Rule 92 bis. According to the rule, witnesses may give their evidence in the form of written statements to save time and for reasons of judicial economy. In his testimony, Erdemovic confirmed that he had been a member of the VRS 10th Sabotage Detachment and that he had participated in the execution of Muslims captured after the fall of Srebrenica in July 1995.
Karadzic wants to cross-examine Erdemovic because of the allegations that Erdemovic's 'group' was not a 'de iure' and 'de facto' part of the VRS chain of command: the group which took part in the execution at the Branjevo farm was in fact a paramilitary formation. Karadzic also claims that the members of the 10thSabotage Detachment were on leave at the time of the execution in Branjevo.
In his motion, Karadzic lists two main sources for the 'new information'. The first source is a book by a Bulgarian author, Germinal Civikov, Srebrenica – the Star Witness. The book raises doubts about Erdemovic's testimony about his rank and the ranks of his superiors at the time of the execution and the "questionable logistical possibility of executing 1200 men in such a short space of time" .
Karadzic's other source is Erdemovic's evidence at the trial of Momcilo Perisic in June 2009, when Erdemovic 'confirmed' that his superior, Momir Pelemis, expected to receive a reward of 12 kilos of gold once the task was accomplished. According to Karadzic, this corroborates his claim that Pelemis and his soldiers were not under the command of the Republika Srpska military and civilian authorities.
Erdemovic served a five-year sentence for the crimes in Srebrenica in Norway. After he was released from prison, Erdemovic and his family joined the witness protection program and were given a new identity and a new place of residence.Erdemovic has testified at six trials before the Tribunal.