Home
KARADZIC: NO CASE TO ANSWER AS TO FLEA MARKET INCIDENT
Karadzic asked the Trial Chamber to acquit him of the shelling of the flea market in Sarajevo on 22 December 1994 at this point in his trial, before the prosecution has rested its case. According to Karadzic, 'there is no case to answer' regarding this incident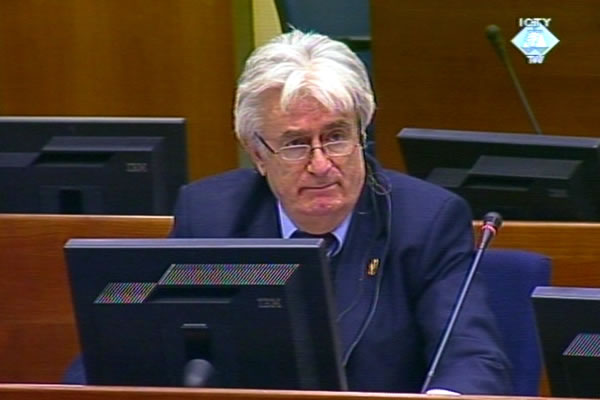 Radovan Karadzic in the courtroom
Former Republika Srpska president Radovan Karadzic asked the Trial Chamber to acquit him of the shelling of the flea market in Sarajevo on 22 December 1994. The indictment alleges that two persons were killed and seven injured in the explosion of two shells fired from Mount Trebevic, which was under the control of the VRS at the time.
Karadzic contends that 'there is no case to answer' regarding the flea market incident. Karadzic bases his motion on the Appeals Chamber's conclusion in the case of the former VRS Sarajevo-Romanija Corps commander Dragomir Milosevic, that the prosecution failed to call enough evidence to prove beyond reasonable doubt that the VRS was responsible for the incident.
The Appeals Chamber acquitted General Milosevic of the flea market incident. The appellate judgment in November 2009 states that "the evidence on the record could lead a reasonable Trial Chamber to conclude that it was most likely that the shells that hit the Bascarsija flea market on 22 December 1994 were fired from SRK-held territory, but not to establish this beyond reasonable doubt'.
Karadzic contends that the prosecution in his case failed to call any new evidence which could lead to a conclusion 'beyond reasonable doubt' that the Serb side was responsible for the incident. "In the interest of judicial economy",Karadzic asks the Trial Chamber to rule that the defense doesn't have to contest the prosecution's evidence on the flea market incident in the course of its case.
Karadzic invoked Rule 98bis of the Rules of Evidence and Procedure allowing the defense to call for the acquittal of the accused on all or some counts in the indictment after the prosecution rested its case, if the defense believes that the prosecution has failed to call enough evidence which would, if accepted, lead to a conviction.
Although the prosecution's case is still ongoing, Karadzic maintains that the Trial Chamber can rule on the flea market incident at this stage of the trial. 'All evidence on this shelling has already been presented', Karadzic notes. The former Republika Srpska president says in his motion that he 'is not expected to wait until the close of the prosecution's entire case to begin preparing his defense case to the Sarajevo events'.
The trial of Radovan Karadzic has been adjourned for two months to give the accused enough time to go through the documents that the prosecution disclosed to him with delay. The trial continues on 23 May 2011.