Home
KARADZIC'S MOTION 'PREMATURE'
The Trial Chamber dismissed the motion in which the accused asked the judges to acquit him of charges related to the shelling of the Flea Market in Sarajevo on 22 December 1994. The judges ruled that the motion was 'premature' because the prosecution has not completed its case yet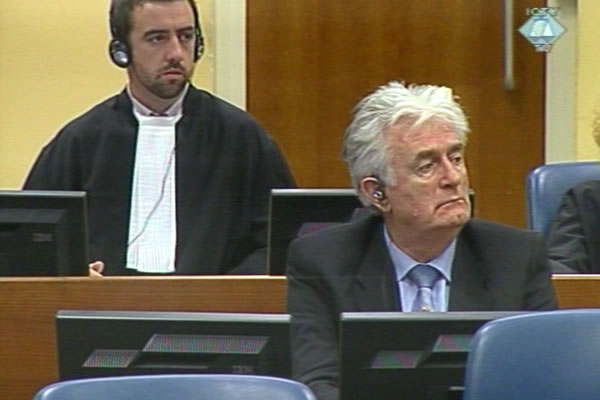 Radovan Karadzic in the courtroom
The Trial Chamber with Judge O-Gon Kwon presiding today dismissed the motion filed by the former Republika Srpska president Radovan Karadzic, in which he asked the judges to acquit him of all charged related to the shelling of the Flea Market in Sarajevo on 22 December 1994. Two persons were killed and seven were injured in the explosion of a shell fired from the VRS controlled territory on Mount Trebevic.
In the motion Karadzic filed last month (see the article of 6 April 2011) Karadzic argued that he has 'no case to answer' regarding this incident. The accused invoked the Appeals Chamber's judgment in the case of the former Sarajevo-Romanija Corps Dragomir Milosevic, where the judges state that the prosecution failed to call sufficient evidence to allow the conclusion that the VRS fired the fatal shell that hit the Flea Market. Since the prosecution has not called any new evidence about this incident, Karadzic contends that there is no need for him to defend himself on that count.
In their decision, the judges note that it is 'premature' to evaluate the evidence called on any of the counts in the indictment before the prosecution has rested its case. The Trial Chamber maintains that, regardless of the fact that the prosecution decided to call evidence in stages – starting with the charges related to Sarajevo, the prosecution may call new evidence on any of the counts in the indictment at any time until its case is complete.