Home
KARADZIC SEEKS DOCUMENTS ABOUT 'INFORMAL CONSULTATIONS' IN SECURITY COUNCIL
A hearing was held to discuss Radovan Karadzic's motion in which he asked the Trial Chamber to issue a subpoena to Venezuela and the UN, compelling them to deliver documents Karadzic intends to use in the cross-examination of former Venezuelan diplomat Diego Arria. The Trial Chamber decided to extend the two-month break at the Karadzic trial for another week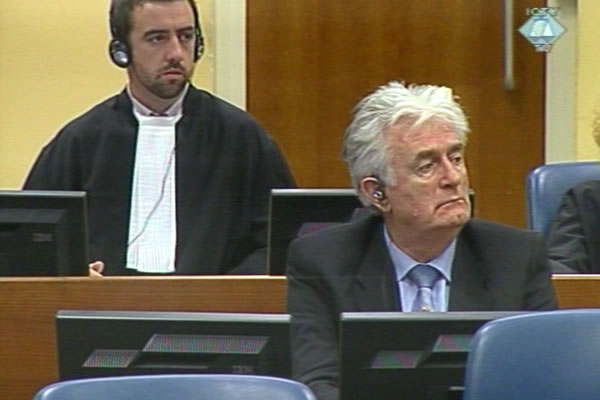 Radovan Karadzic in the courtroom
A hearing was held in the Radovan Karadzic case today to discuss the motion filed by the accused, in which he asked the Trial Chamber to issue a subpoena to Venezuela and the UN, compelling them to deliver documents the former Republika Srpska president deemed important for his defense. Karadzic wants documents he intends to use in the cross-examination of prosecution witness Diego Arria, who was Venezuelan ambassador to the United Nations from 1991 to 1993.
Arria chaired the Security Council at the time of the first 'Srebrenica crisis' in the spring of 1993 when the resolution on the protected zones in BH was passed. In April 1993, Arria headed the first Security Council mission to Srebrenica. In his evidence at the trials of Slobodan Milosevic and Naser Oric, Arria said that a 'slow genocide' was well underway in Srebrenica by that time. Arria will testify about that at Karadzic's trial when the prosecution starts calling evidence on genocide and other crimes in Srebrenica in the summer of 1995.
Alfonso D'Santiago, representative of the Venezuelan government and head of the Department of Multilateral Treaties in the Venezuelan foreign ministry, said the hearing today that steps had already been made to locate the documents. However, it will take between three and five months to search, compile and analyze documents. D'Santiago also noted that Karadzic's request was imprecise and its time frame was too wide. Documents drafted at the time when Arria chaired the Security Council are under the sole jurisdiction of the UN and not Venezuela, D'Santiago said.
The Venezuelan diplomat expressed his reservations about Karadzic's request for the documents about the informal consultations in the Security Council. According to D'Santiago, the documents are 'inherently confidential'. D'Santiago added it was agreed with the UN office for legal issues that they should work together on identifying documents that could be disclosed. According to estimates, it will take between three and five months to search, compile and analyze the documents. As Peter Robinson, Karadzic's legal advisor, said, there is some 'ambiguity' in the position taken by the Venezuelan government. In his statements to the OTP investigators, Arria already disclosed some information from the informal consultations in the Security Council, Robinson argued.
Presiding judge O-Gon Kwon said in the end that he expected Venezuela to deliver a report on the progress in locating the documents sought by the accused not later than on 10 October 2011.
The Trial Chamber ruled with a majority of votes on the 47th motion Karadzic filed complaining about delayed disclosure of documents by the prosecution and seeking yet another adjournment of the trial. With a separate opinion of the presiding judge O-Gon Kwon, the Trial Chamber decided to extend the current two-month break by seven days. The trial of the former Republika Srpska president will thus continue on 31 May instead of 23 May 2011, as previously indicated.
Photos