Home
SESELJ CHARGED WITH CONTEMPT OF COURT FOR THE THIRD TIME
After Seselj persistently refused to comply with a number of Trial Chamber's orders to withdraw from his website confidential information on protected prosecution witnesses, the Trial Chamber decided to issue the third contempt of court indictment against Vojislav Seselj. This is the fourth indictment against Seselj before the Tribunal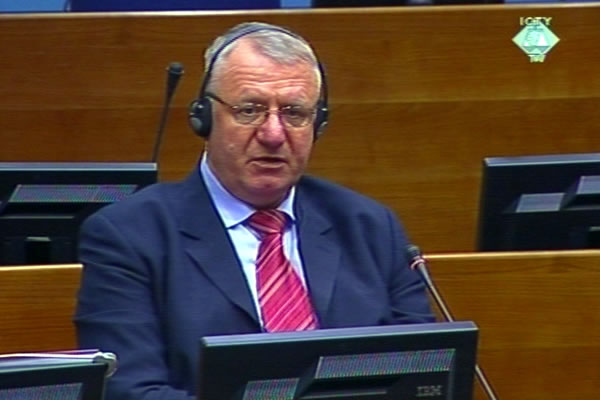 Vojislav Seselj in the courtroom
The Serbian Radical Party leader stands accused before the Tribunal for the third time for contempt of court. This time Seselj is charged with willful and deliberate refusal to remove from his website materials disclosing the identity of protected prosecution witnesses. The materials are in fact several books written by Seselj (he has already been indicted and convicted for publishing confidential material in those books) and a number of confidential documents from his trial and from the Slobodan Milosevic trial, where Seselj appeared as a witness. The decision to issue the indictment was submitted confidentially on 9 May 2011 and today an edited version of the decision was made public.
The decision goes on to state that several of the Tribunal's Trial Chambers have ordered Seselj and persons in charge of his Serbian website to withdraw controversial documents from the public domain on no less than six occasions. Two such orders were issued in July 2009. In May 2010, the order was made part of the judgments of the Trial Chamber and the Appeals Chamber sentencing Seselj to 15 months in prison for disclosing the identity of three protected witnesses in one of his books. After that, Seselj was charged with disclosing information leading to the publication of the identities of another 11 protected witnesses. Seselj was ordered to withdraw that information from his website.
The accused has repeatedly turned a deaf ear to all orders to withdraw the confidential material. Seselj's son Nikola who runs the website named after Vojislav Seselj's name said in his response to the Tribunal that he"did not intend to comply with the Trial Chamber's order'. According to Nikola Seselj, his father was the "only person authorized to create the contents of his internet site". This clarification of the 'jurisdiction' over the operation of the website has obviously caused the judges to indict only Nikola's father Vojislav Seselj, and not Nikola himself.
The Serbian Radicals' leader will thus appear before the Tribunal's judges for the fourth time to enter his plea on the counts in the indictment. Seselj has so far clocked up a 15-month prison sentence for contempt of court with two defense cases pending. The first of the defense cases is due to start on 6 June 2011 at Seselj's second contempt of court trial. Seselj has indicated that ten of the eleven protected witnesses whose identities he allegedly disclosed will testify in his defense. The defense case at Seselj's 'main' trial hasn't yet been scheduled and it remains unclear whether it will ever begin. Seselj has made a number of requests to the Tribunal as a condition for his calling evidence. Seselj's motion to be acquitted after the prosecution case for lack of evidence has been rejected recently.