Home
ARMY SERVED POLITICAL GOALS
Prosecution military expert says that the Republika Srpska Army was there to implement the six strategic goals of the Bosnian Serb political leadership. Among those aims were the separation of ethnic community, the establishment of a corridor, the elimination of the border on the Drina River and the carve-up of Sarajevo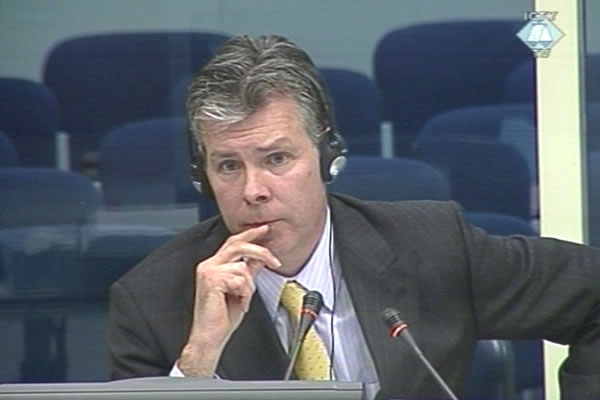 Ewan Brown, witness at the Mico Stanisic and Stojan Zupljanin trial
Ewan Brown, prosecution military expert testifying at the trial of Mico Stanisic and Stojan Zupljanin, says that the Republika Srpska Army implemented the strategic goals defined by the Bosnian Serb political leadership. Brown already testified about the ties between the politicians and the army at the trials of Momcilo Krajisnik and Radoslav Brdjanin.
In his expert report, Brown examined the political and military situation in the area of responsibility of the VRS 1st Krajina Corps, the military operations and the role and responsibility of the Corps commanders.
According to Brown, the 16th session of the Assembly of the Serb People in BH held on 12 May 1992 represented a 'breaking point' in the political and military situation. The VRS was established and the six strategic goals of the Serb nation were unveiled. The goals included the separation of the peoples, the establishment of a corridor in Posavina, the elimination of the border on the Drina River and the carve-up of Sarajevo. The witness noted that the strategic goals were clearly reflected in the military directives issued after that session.
At the same session, there was a debate about the necessity of relocating the non-Serbs and how the Serb territories could be captured and held. The witness notes that in an 'uncommon display of concern' Ratko Mladic cautioned that 'people are not pawns, nor keys in pocket that could be moved here and there'. As Mladic went on to say, 'I don't know how Karadzic and Krajisnik will explain it to the world' because it was tantamount to 'genocide'.
As the witness said, Mladic 'understands that people will be expelled', and suggests that it should 'remain the best-kept secret'. The goals should be 'presented in such a way to be appealing' to those that should be won over while the Serbs should 'read between the lines'.
According to the witness, the general call-up issued by General Momir Talic at the request of the Presidency shows that the VRS and politicians worked hand in hand. The order specifies that the army should establish 'direct contacts' with municipal authorities, to integrate local Territorial Defense forces into its ranks and to make sure 'agents provocateurs or the fifth column' could not infiltrate the units.
Ewan Brown continues his evidence tomorrow when he will be examined by the defense lawyers representing the two former Bosnian Serb police leaders. Stanisic and Zupljanin are charged with police crimes against Bosnian Croats and Muslims in 1992.