Home
ARMY 'HAD NO SYMPATHY' FOR CROATS AND MUSLIMS
In its internal military reports in 1992, the VRS notes that many Croats and Muslims were expelled from their houses and detained without any evidence of wrongdoing. Nevertheless, the army 'did not have any sympathy' for them and never suggested that they should be released, prosecution military expert claims at the trial of two Bosnian Serb police officials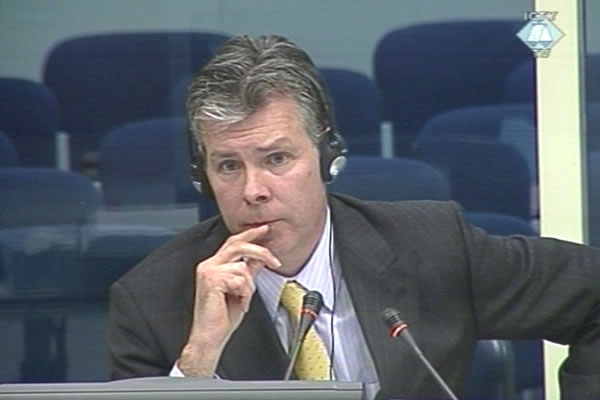 Ewan Brown, witness at the Mico Stanisic and Stojan Zupljanin trial
At the end of his examination-in chief at the trial of Bosnian Serb police officials Mico Stanisic and Stojan Zupljanin, prosecution expert Ewan Brown continued with his analysis of the documents he used when he wrote his expert report on the military operations in Republika Srpska in 1992.
As the witness said, the army personnel in their internal reports note that Croats and Muslims were expelled from their homes and frequently detained in prison camps 'without any evidence' of their involvement in illegal activities or guilt of any offence. However in its reports, the army 'showed no sympathy for non-Serbs' and, although it would be logical to do so, it didn't suggest their release from the prison camps and their return to their home. According to the witness, the army was not critical of the policy itself, but only of the disorder and poor coordination with the civil authorities. The reports also express concern that such treatment of non-Serbs merely serves to recruit more enemies, motivating even those who had never thought to fight the Serbs to join the armed resistance.
The military reports speak about the killing of a large number of prisoners in the yard of the health care center in Kotor Varos, allegedly committed by the special police unit from Banja Luka. Also, a massacre of almost 200 Muslims on Mount Vlasic is mentioned: they were executed in August 1992 by the intervention platoon of the Prijedor police. A video recording from a press conference played in court showed General Momir Talic dismissing the allegations that the army had taken part in the crime. General Talic says he did 'not give it too much weight, although he is aware of its scale'. However, the report sent to the Main Staff on Talic's behalf says that the crime – described as the 'black stain' – has caused 'indignation among the people and in the army ranks' and that 'luckily the international community has not learned the details'.
The witness was shown several excerpts from Ratko Mladic's war diaries from May and June 1992. The excerpts describe various meetings of military and political representatives, the discussion about the establishment of a single VRS and the implementation of 'the age-long dream – the creation of a Serb state without any number of internal enemies'.
The defense of Mico Stanisic, first interior minister in the RS government, today opened the cross-examination of the prosecution military expert. Stanisic's defense counsel first contested the witness's expertise and then challenged the credibility of the report itself. As the defense counsel noted, the witness was not objective because he worked for the prosecution and his report could not be considered impartial since it was written on order; moreover, after completing the report, the witness consulted with the prosecution. The former British officer army dismissed those claims. The defense will continue cross-examining the witness tomorrow.