Home
ZUPLJANIN DENIES PRISON VISIT
Former president of the Kotor Varos crisis staff contends that the accused chief of the Banja Luka police Stojan Zupljanin wasn't in the delegation that visited a local prison in the fall of 1992, contradicting the evidence of a former prisoner who testified in November 2010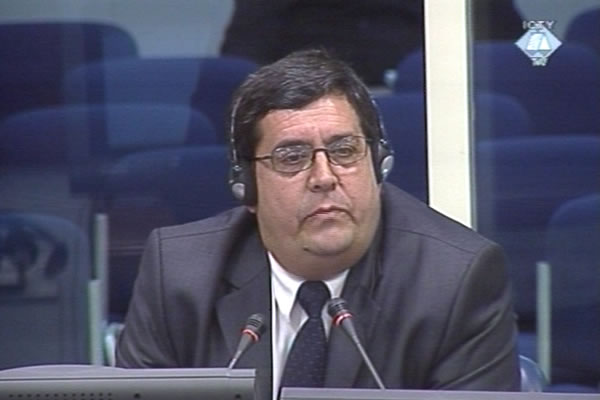 Nedeljko Djekanovic, witness at the Mico Stanisic and Stojan Zupljanin trial
After a three-week winter recess at the Tribunal, the trial of two former Bosnian Serb police chiefs, Mico Stanisic and Stojan Zupljanin, continued with the examination of Nedeljko Djekanovic, former president of the Kotor Varos municipality and its crisis staff. In October 2009, Djekanovic testified about the war in Kotor Varos. Today, the witness talked about a visit to a local prison in October 1992.
Djekanovic was recalled for re-examination following the testimony last year of a protected Bosniak witness from Kotor Varos, who testified as ST-241.The man was detained in a local prison in 1992, and he claimed Djekanovic and Stojan Zupljanin had escorted an International Red Cross delegation that visited the prison in Kotor Varos in the fall of 1992. The defense denied the claim, demanding that Djekanovic be recalled to testify about the visit.
In his brief examination today, the witness told defense counsel Dragan Krgovic he was 'convinced' that Stojan Zupljanin wasn't a member of the delegation that visited the Kotor Varos prison on 3 October 1992. As Djekanovic added, he personally visited the prison only once, on that occasion. He doesn't know if Zupljanin visited the prisoners on some other occasion.
The prosecutor noted that the witness remembered the events of 19 years ago 'without any hesitation' and asked if he had any contacts with the defense before his arrival in The Hague. The former president of the Kotor Varos crisis staff said he 'knew what the topic of the examination would be'. The witness contends that his friend, who is following the trial on the Internet, told him he had been mentioned in the context of a prison visit. The witness denied that anyone from Zupljanin's defense team had contacted him, adding, 'nobody prepared me or influenced' his evidence.
The trial of Stanisic and Zupljanin continued in closed session after Nedeljko Djekanovic completed his evidence. Prosecution military expert Ewan Brown is scheduled to testify tomorrow. Stanisic and Zupljanin are charged with crimes of the Serb police forces against Bosnian Croats and Muslims in 1992.