Home
WHO ARMED THE BOSNIAN SERB ARMY
Ivan Djokic, testifying as an expert witness of General Momcilo Perisic's defense, says that the VRS obtained weapons from 'FRY, Israel, Russia and Ukraine' and from 'brokers who bought them on the black market'. The VRS received its supplies from local municipalities and companies; FRY supplied some of the ammunition it used, about 450 tons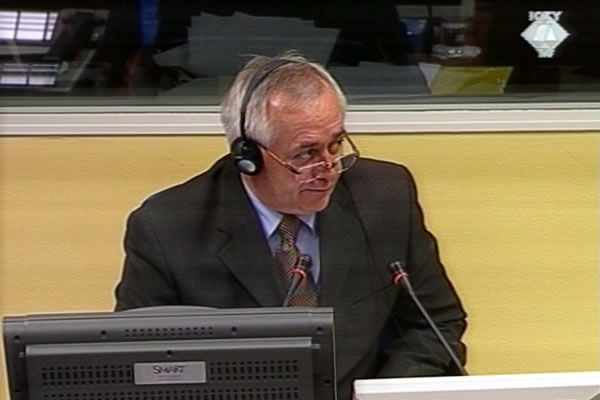 Ivan Djokic, witness at the Momcilo Perisic trial
The trial of the former chief of the VJ General Staff Momcilo Perisic continued with the evidence of Ivan Djokic, who was asked by the defense to draft an expert report on the logistic support in the Yugoslav Army from 1992 to 1998. Before his retirement, Djokic served as the assistant to the Chief of the VJ General Staff for logistics. He claims that 'the titular owner of the entire military property' was the FRY Ministry of Defense.
In his report, the defense expert pointed put to the various decisions of the Supreme Defense Council related to the logistical support for the Serbian Army of Krajina and the Republika Srpska Army. Djokic also analyzed the kind and scope of military assistance provided by FRY to the Serb armies in Bosnia and Croatia from 1992 to 1995.
In the part of the report focusing on the arms embargo covering the countries of the former Yugoslavia, Djokic noted that all the warring sides violated the prohibition imposed by the Security Council. According to the witness, the Bosnian Serbs got their weapons from 'FRY, Israel, Russia and Ukraine' and from 'brokers who bought the weapons on the black market'.
According to Djokic, the VRS received most of its supplies through local municipalities and companies which covered up to 70 percent of its total requirements. The rest came through the ministry of defense and the Main Staff. Referring to a report on the VRS combat readiness, the witness noted that most of the ammunition came from 'material reserves, repair facilities, war booty and production'. The additional aid the VRS received covered 20 percent of its demand for ammunition. According to the witness, the aid arrived from FRY; in the course of the entire conflict, FRY supplied about 450 tons of ammunition to the Bosnian Serbs. The VRS used about 3,000 tons of ammunition per year. General Perisic is charged with providing logistic and other support to Bosnian Serb as the chief of the VJ General Staff. Perisic thus contributed to Bosnian Serb crimes in Sarajevo and Srebrenica, the prosecution alleges.
Fuel was 'a crucial element of logistics for the warring factions and the VJ alike', the witness stated. FRY got its fuel from Croatia and as shipments travelled through RSK and RS, they kept some of the fuel, the witness explained. The VRS bought its fuel from the HVO and paid in ammunition and artillery weapons, Djokic said.
At the beginning of the cross-examination the prosecutor didn't contest the 'qualifications and relevance of the expert report' challenging instead the methodology the expert used.