Home
PROSECUTOR: EXPERT REPORT BASED ON INACCURATE DATA
In the cross-examination of expert Ivan Djokic, called by General Momcilo Perisic's defense, the prosecutor put it to him that the data he provided in his report were not exact. To illustrate the argument, he said Djokic stated in his report that in 1994 the VJ supplied about 200 tons of ammunition to the VRS, whereas prosecution documents show the quantities exceeded 1,000 tons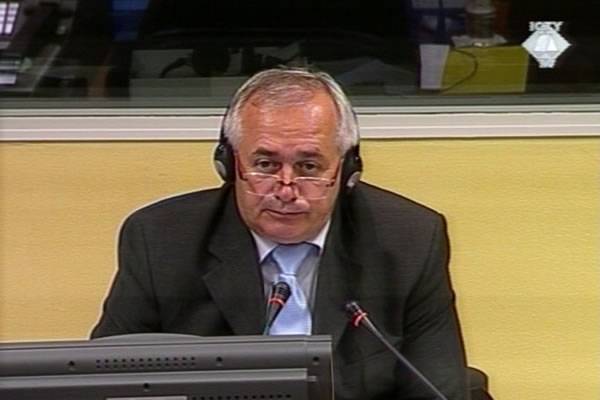 Ivan Djokic, witness at the Momcilo Perisic trial
'Modified air bombs were not planned for use in urban areas and any such use is unacceptable and wrong,', said Ivan Djokic, expert for logistics called by General Momcilo Perisic's defense, as he was cross-examined by the prosecutor. General Perisic is charged with providing logistical and other support to the VRS and SVK and thus contributing to the crimes their troops committed in Sarajevo, Zagreb and Srebrenica.
At least one incident listed in the indictment against General Perisic pertains to the use of modified air bombs. The prosecution claims General Djokic was the "architect" of the project. The prosecutor used Perisic's statement on the occasion before Djokic's promotion, where he hails Djokic as 'an innovative man who designed and modified air bombs so that they can be used in ground warfare'. Djokic denies he was the "architect" behind the modified air bomb project, claiming he did some work on their electrical systems.
In the cross-examination, the prosecutor did not challenge the relevance of the report and the qualifications of the witness who retired from the post of the assistant to the chief of the General Staff for logistics. He did challenge the accuracy of the data provided in the expert report.
Djokic claims that under the Law on Property, the defense minister was the 'titular owner of the military property'; the VJ could not give away any material or equipment without his approval. When the prosecutor asked him if General Perisic then sent aid to the Serb armies in Bosnia and Croatia 'illegally' since he bypassed the Defense Ministry, the witness confirmed it. According to Djokic, neither Perisic nor the Supreme Defense Council had the right to bypass the Defense Ministry which was directly subordinated to the Government.
The prosecutor then asked Djokic to explain why he did not include the conclusions from the 18th session of the SDC, in February 1994, in his report. After that session, the SDC decided that the VRS Main Staff should send its requests directly to Perisic who then decided whether to approve them or not. Djokic claims he included only the conclusions reached at the sessions, and that the practice described by the prosecutor was never used in the VJ.
In his report, Djokic stated that in 1994 the VJ allocated about 200 tons of ammunition to the VRS. According to the prosecutor, the data cannot be corroborated because the first few items in the report on the quantities of ammunition obtained by the VRS in 1994 shows that the VJ sent about 1,000 tons of small arms ammunition to the VRS. The witness explained he got his data from the documents he obtained from the defense: materiel records, waybills and other records of this kind.
The trial of General Perisic continues with the evidence of a new defense witness on 15 November.